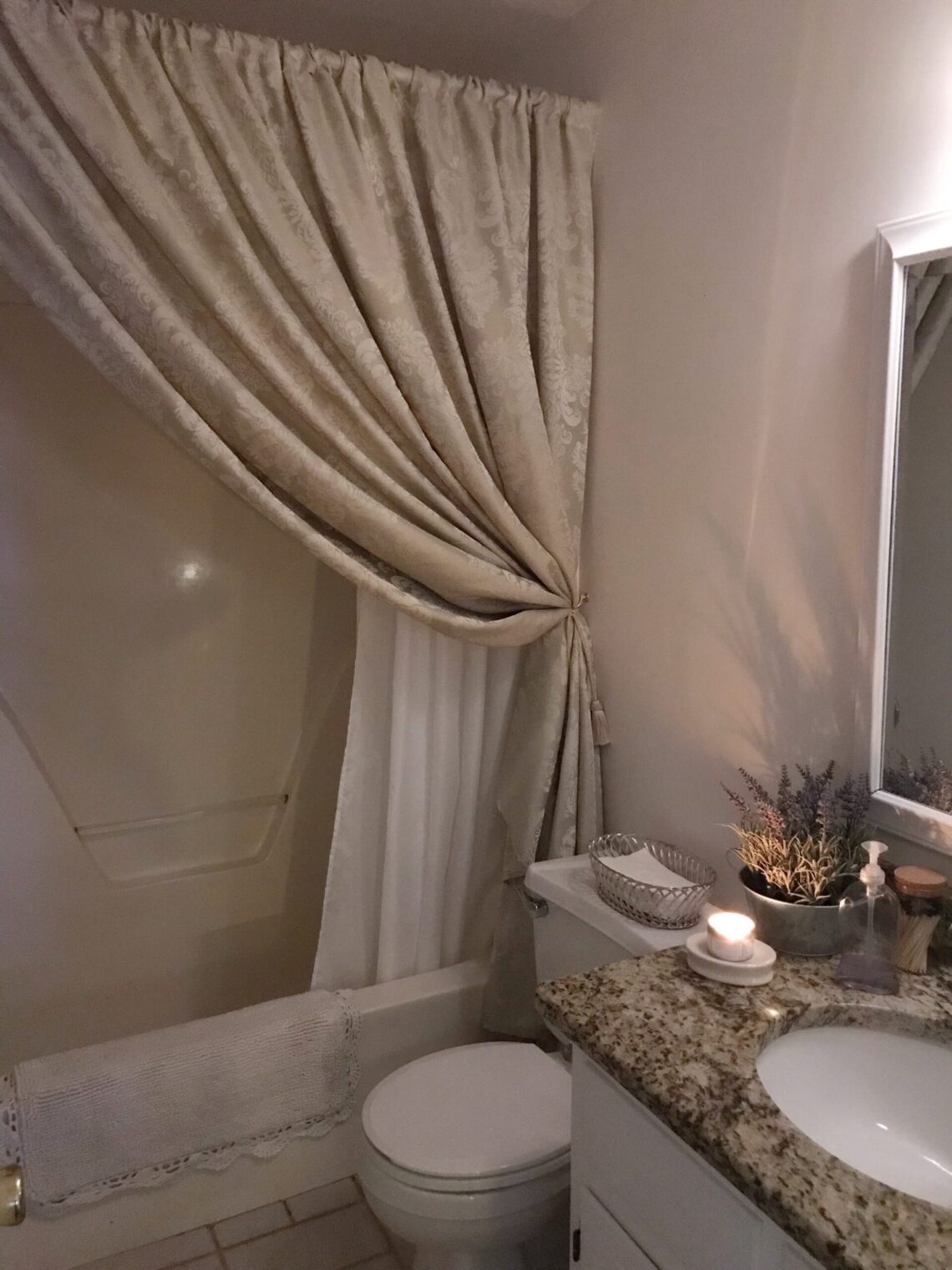 Non-dramatic Bathroom Makeover: Making it Beautiful without the Renovation
Ladies,
I love a dramatic before and after makeover. But in our world of attention-grabbing headlines and impressive home overhauls we have lost a lesson of utmost value. A makeover is not just an extreme change. Many times, transformative makeovers are the little things that you do to make a room feel clean, comfortable…and my favorite, romantic. Here is my very small rental house bathroom all made up.
My bathroom was already very neutral colored which made it a nice palette to work with in comparison to a less than beautiful paint color. If you need to paint, that is easy and cheap enough without being a major renovation. Because I did not zoom in on all of these details, here is the state of things: the bathtub/shower insert is dark ivory/yellow/beige. It's a neutral color and not terrible looking but dated looking. The shower/tub hardware is not copper or gold or in a beautiful shape…just standard builder grade silver hardware. The tile floor is decent but old, in an odd pattern with grout that is so stained with dirt, I gave up trying to get it clean. The countertop was replaced with a brown marbled granite, but it is set on top of a low and thin rickety wooden bathroom vanity with old rusty hardware that I decided to ignore. The trim along the floor is not the standard trim with a curvy top, it is a low, straight block of wood that you can see the nail heads in, and my magic eraser could not get the decade's worth of scuff marks off. But I have already painted 3 full rooms of this rental house and I am all painted out. This room is not terrible looking, but I was putting the chic into the shabby. Which is why I have always enjoyed the French Country look because the imperfections actually look charming with elegance added in. Even though this house has some rough edges, I thank God for this bathroom and this house. I love it and it is a gift from God and I praise Him that it is this nice.
Making it better right now
It is easy to feel discouraged when you cannot implement grand change. But even small, outdated bathrooms can look transformed with decorating finesse and nothing else.
Decant Items & Remove Labels
The bathroom is so utilitarian. It really needs a bit of softening. I remove store packaging as much as possible to lend more elegance to the items in this room. I decanted the tissue from the cardboard box and placed it in this metal woven basket (you can just assume that everything I own is thrifted because 99% of the time it is).
My soap dispenser is the Soft Soap plastic dispenser the hand soap came in, but I peeled off the garish label for a clean clear bottle. Instead of purchasing a glass soap dispenser, I kept the plastic one because it looks clear and is not breakable anyway (child friendly!). You will also notice the matches I placed behind the soap bottle, near to the candle. This bottle has a textured patch on the back for swiping the match, while the bottle is decorative for display! I am really impressed with a lot of the Better Homes & Gardens brand items. This was a good find at Walmart.
I roll the hand towels or wash cloths that are displayed for a fancier look. Whether plastic or ceramic, find stylish organizational containers for things like toothbrushes or Q tips.
This is the biggest way you can make a visual difference in your non-dramatic bathroom makeover without renovation:
Move your shower rod higher! Buy an extra-long shower liner. Yes, they make these. Measure the length from the rod height to about halfway down into the tub. This is about where the shower curtain liner should fall to stay put when showering, buy the length that is closest to what you measured. Also, get a liner that is "weighted" as the weights sewn into the hem help the liner stay down and not blow around.
I put two tension rods parallel to each other so that the liner was on the inside rod and the swooping fabric was on the outside rod merely for decorative purpose. You can buy an extra-long shower curtain for the outside rod, but you can make one with fabric! I would suggest a polyester fabric that is more water resistant since polyester is essentially made out of plastic. It will not get soaking wet since you will have a shower liner on the inside.
Sweeping this long damask fabric to the side gives this small bathroom feminine elegance that I love so much. I used a tassel to tie it back onto the hook that we placed on the wall. Tassels. Tassels and fabric. They transform a room.
Beautiful Bathmat
If you want to up your bathroom appeal, stop buying bathmats that look like BATHMATS. Buy something that is really just a small rug, meant to be a bathmat. As I type this out, I'm feeling how much it truly is the small things that change the feel and look of a room because bathmats either upgrade or downgrade the bathroom instantly.
With as simple as my changes were, this bathroom is something it never would have been without them. Consider the small moves the bigger lesson to making your outdated, small, or rental bathroom beautiful. This is homemaking.
Unil next time!
whateverlovely.com
COUNTRY LIVING -FASHION -HOME