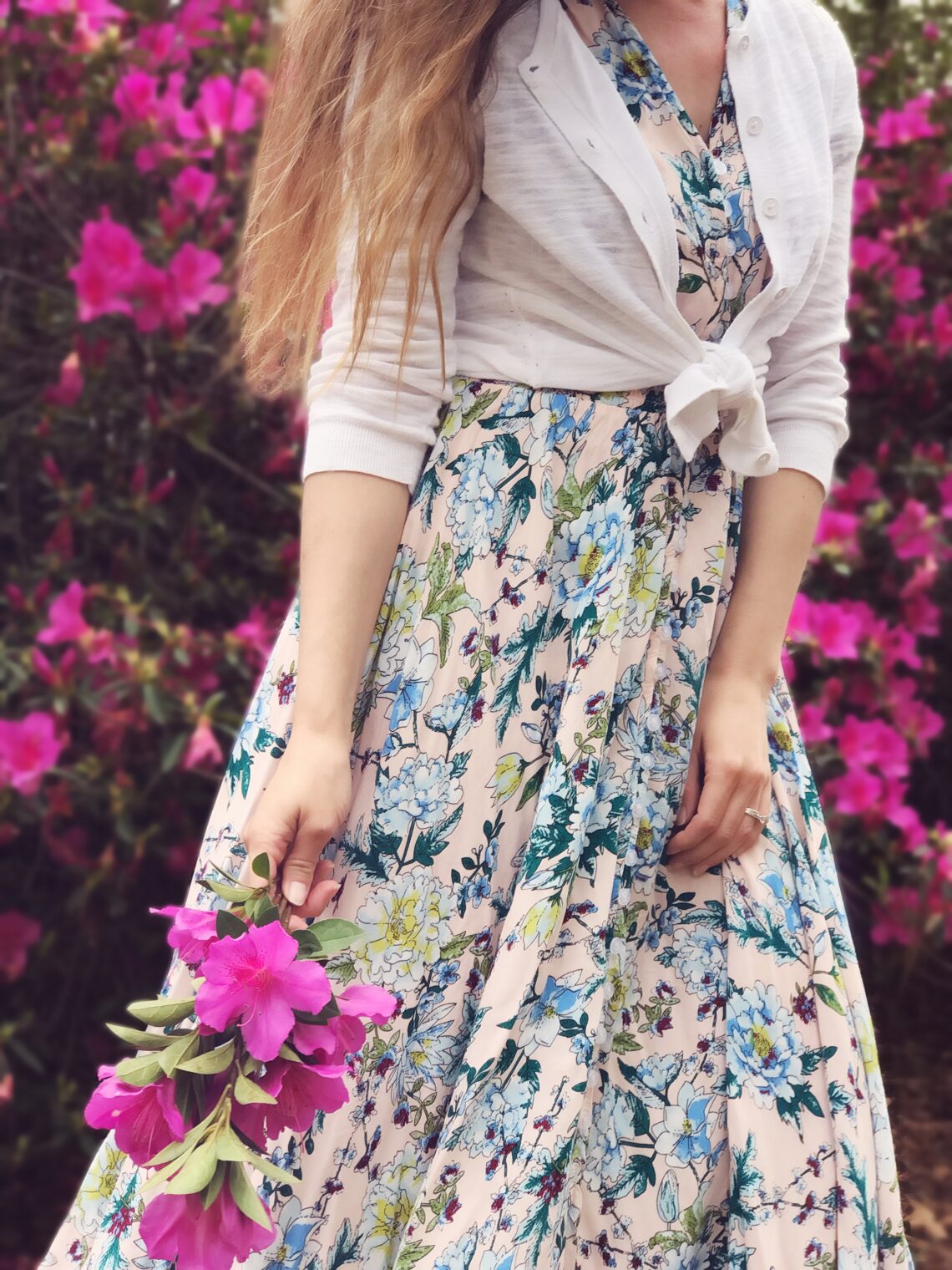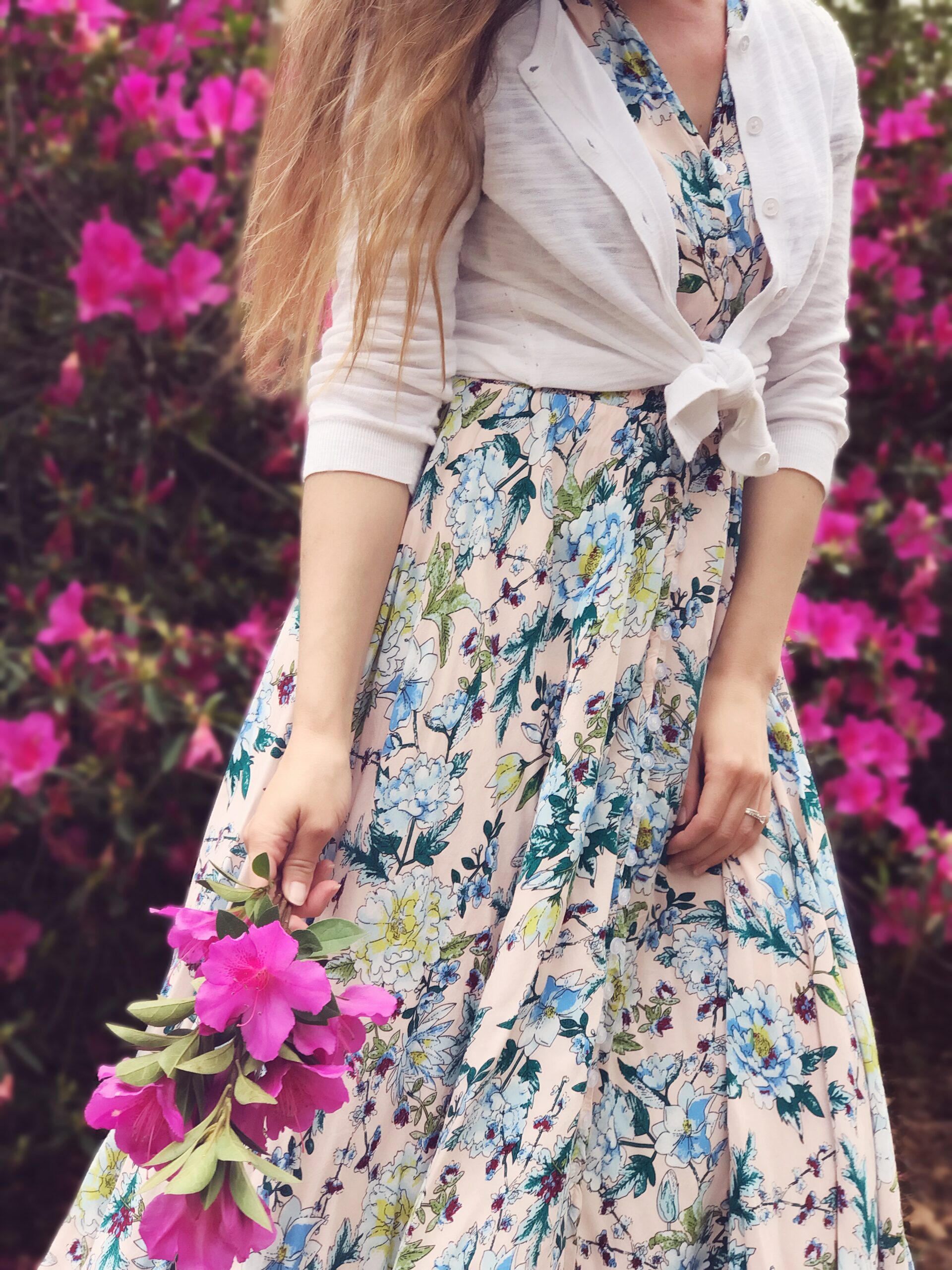 Farmhouse Feminine Fashion: FLORAL PRINTS
Welcome to whateverlovely.com my Country Living Home & Fashion Blog. My name is Barbie and I encourage women in homemaking and feminine style. Let's talk floral prints for farmhouse feminine fashion!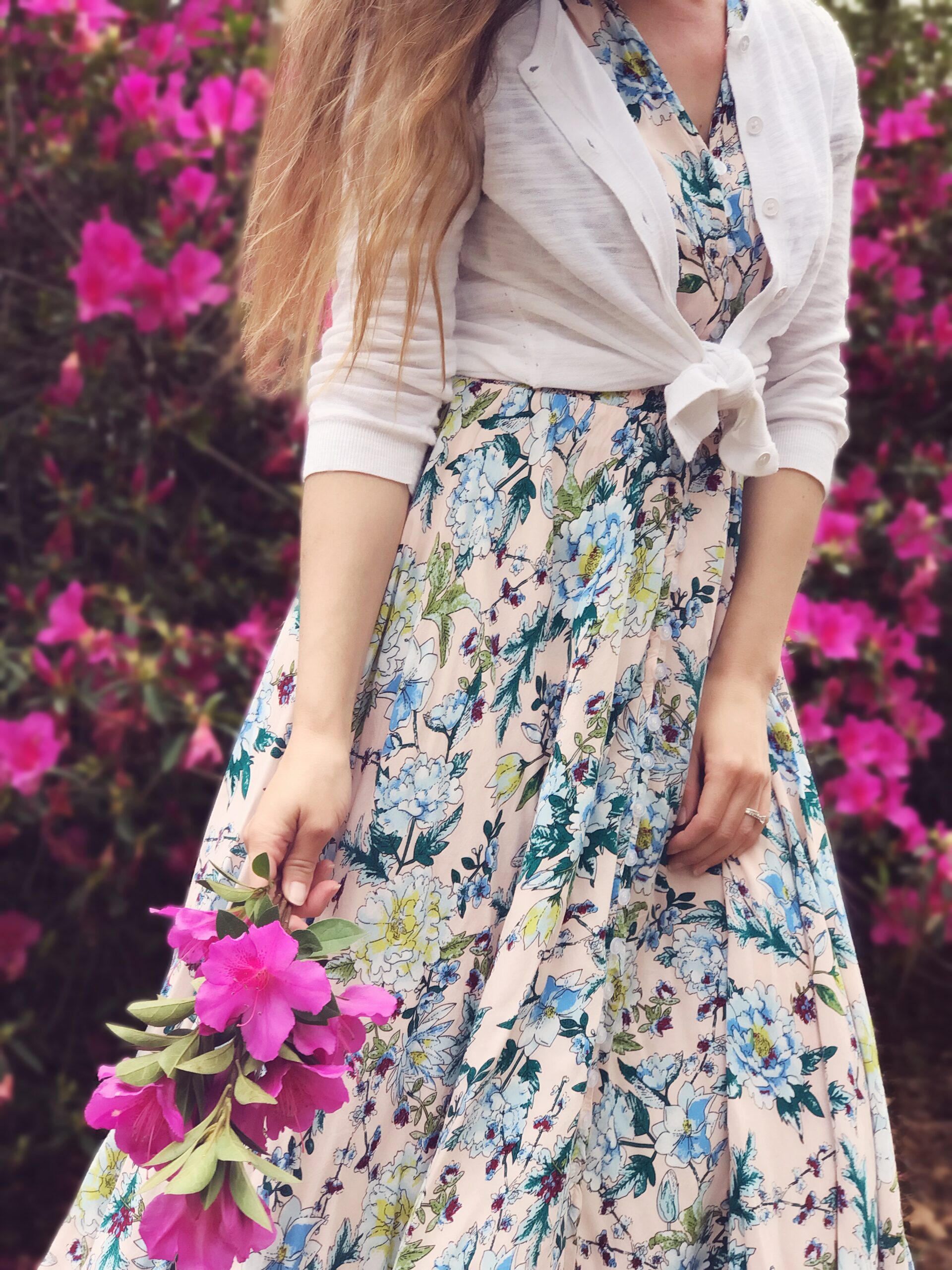 You can dress femininely for everyday hard work. Repeat that to yourself every time you think wearing your husband's work shirt is more "practical". Feminine clothing is practical if you own items that are comfortable, wash well, are warm enough or cool enough, that stay on your body and do not hinder your movements.
Women have been exposed to the overly masculinizing of women's wear to the point that feminine styles feel less usable, less realistic. But there are very realistic ways to make your wardrobe feminine even for the farm.
History is filled with women's fashion bursting with this uniquely feminine motif, the unapologetic femininity of floral prints. This flowery fashion and decor still reminds me of one of the best places to be: the garden. Historically, feminine forward decor and fashion was not considered "frilly" or "grandma". Femininity was not only more normal when I was young and in previous generations, it was seen as beautiful, elegant and wearable.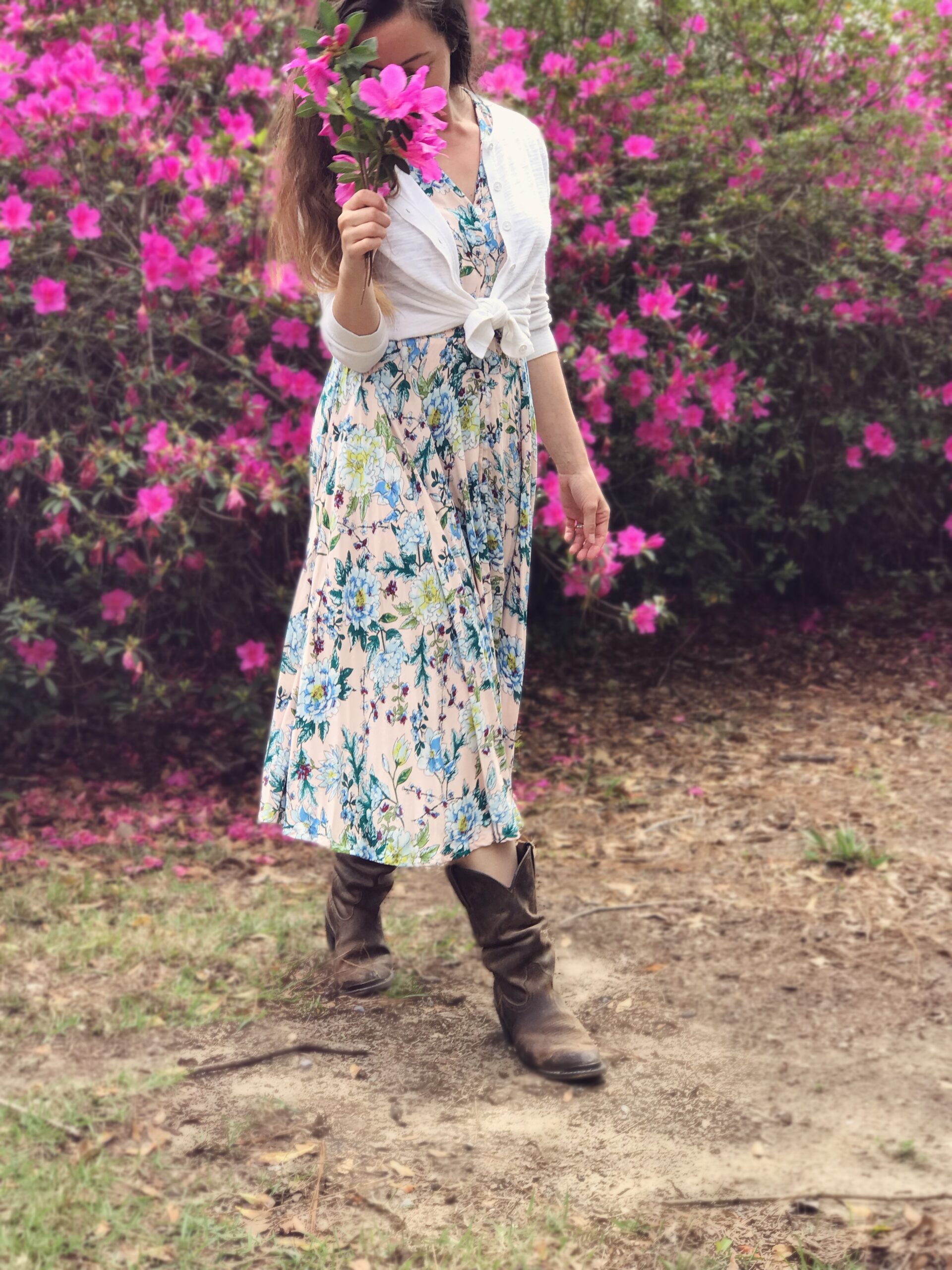 Modern fashion culture has abandoned classic feminine fashion for more toned down androgynous items. Fashion use to serve the woman with her feminine senses in tact and not yet destroyed by a culture bent on discouraging it. Now fashion caters to a woman who has never nurtured nor embraced her femininity so what is being sold is typically not classically feminine.
I would argue that women in the country have even less feminine options because we have to wear durable clothing for many jobs…and these items look like men's clothes! Solid dark colors in manly blocky cuts, masculine plaids, coveralls and boots….what's a farm girl to do? Tractor supply only sells so many styles.
While we may be limited in some options now, floral print is a fashion feature that we can still count on and incorporate even in work clothes.
Instead of a manly button down buy that floral blouse to wear under your coveralls or with your jeans. When you are not out in the muck but around the house and garden…wear that floral dress! Pair it with your boots. You can do a lot of housework in a pretty dress.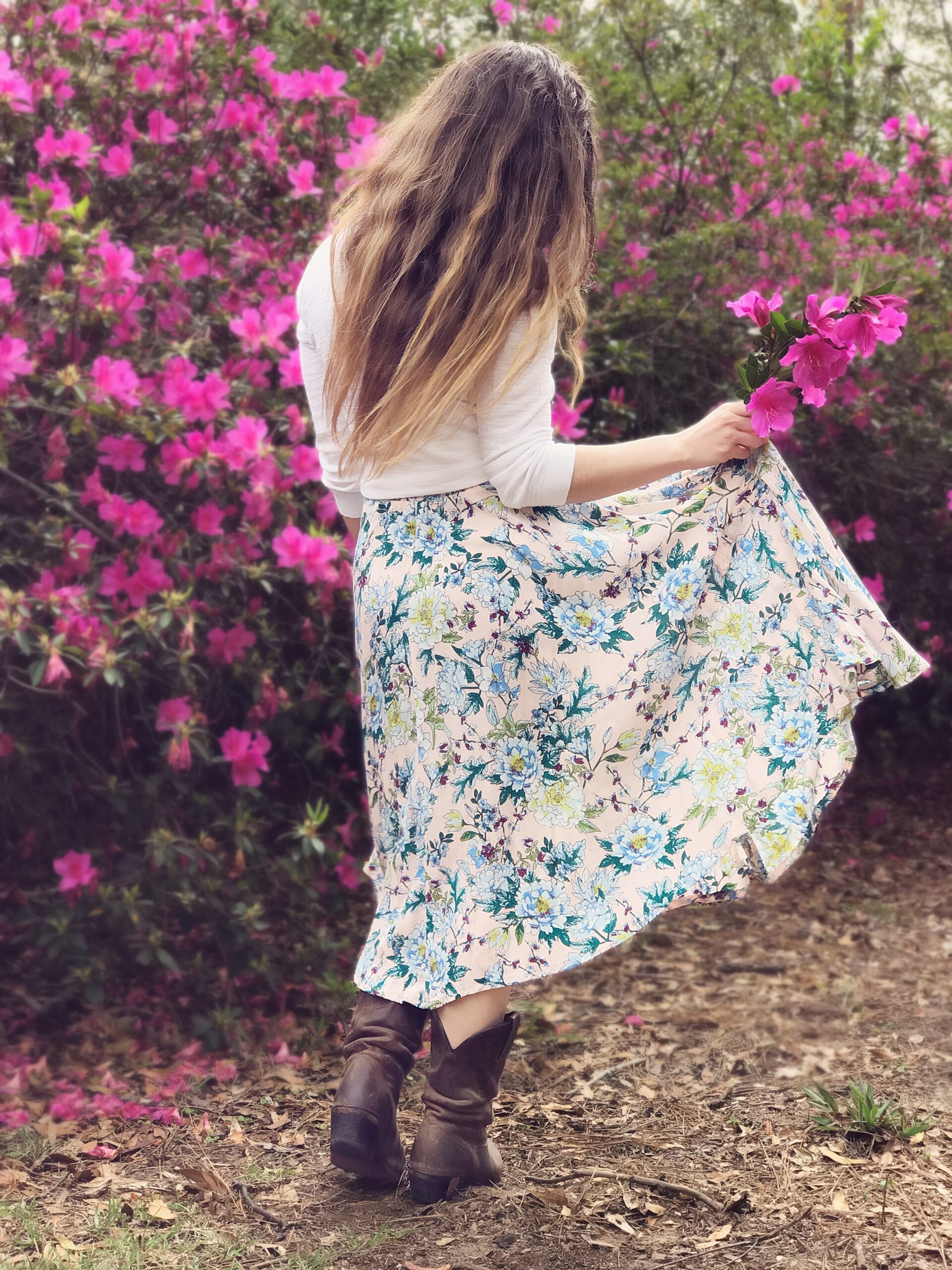 Wearing floral print is one of the quickest ways to look a little more womanly, a little more sweet, a little more romantic. Much of modern day women's clothing could be sold side by side men's clothing and you wouldn't be able to pick out which is the woman's. This is what floral prints do, they distinguish woman's wear from men's wear instantly. Florals are distinctly feminine.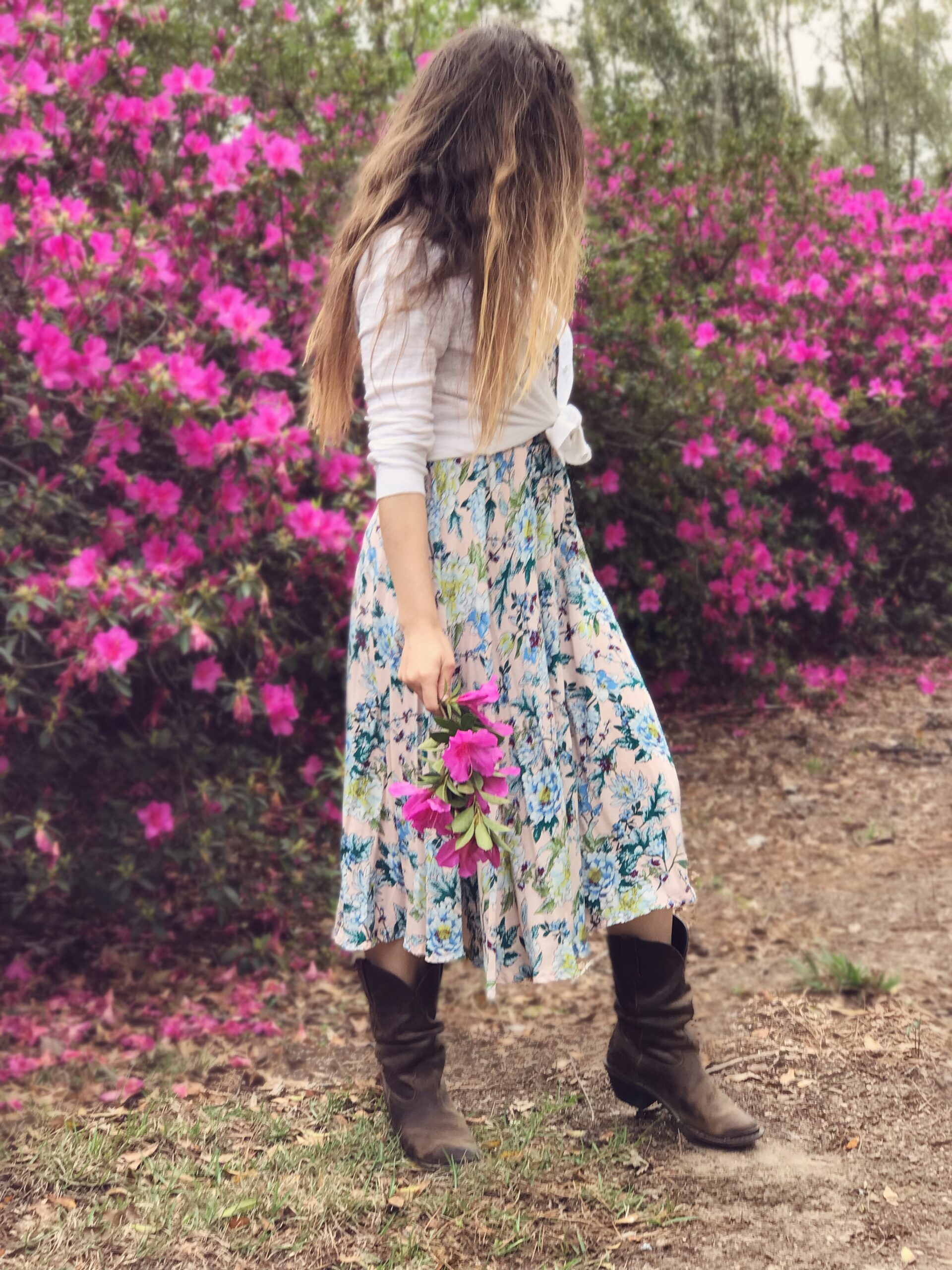 The classic rule for prints is to wear the one most proportionate to your size. Smaller floral prints pair with smaller women and larger floral prints pair with larger women. I tend to agree that as a petite woman, large prints look too oversized on me. Very small print may contrast with a large woman and make her look larger in proportion. I wear small print to medium print, this dress being an example of a "medium" size flower print. It is not a hard rule, just something to consider when shopping for yourself.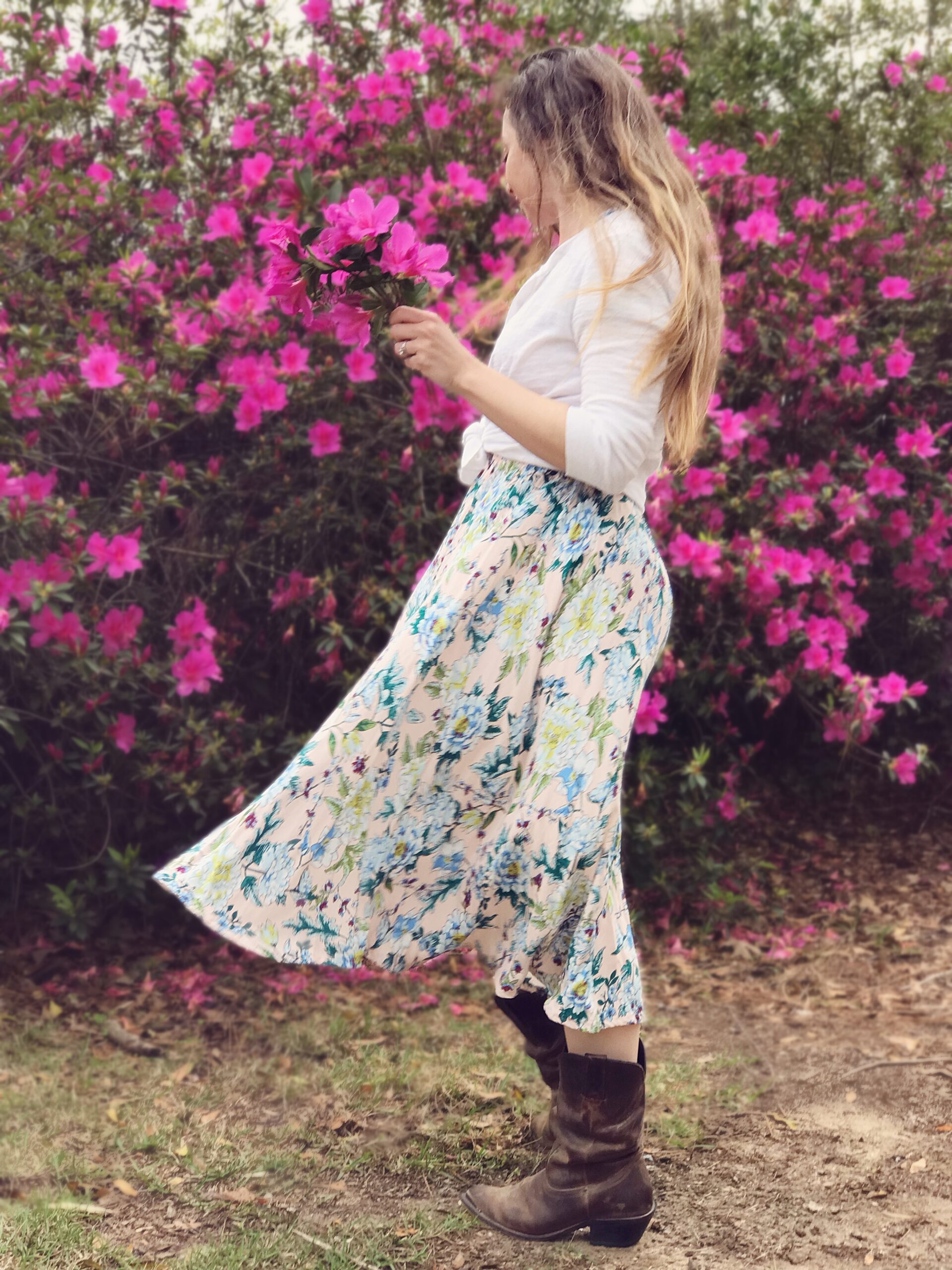 Floral prints are baby and child friendly. They hide everything! Many solid colored fabrics show every sweat stain, smudge, and spill. What could be more feminine than something beautiful and motherhood ready? You can clean, garden, and let smudged faces and hands hug you without compromising your style throughout the day. Florals are farm friendly with all of the work and dirt involved.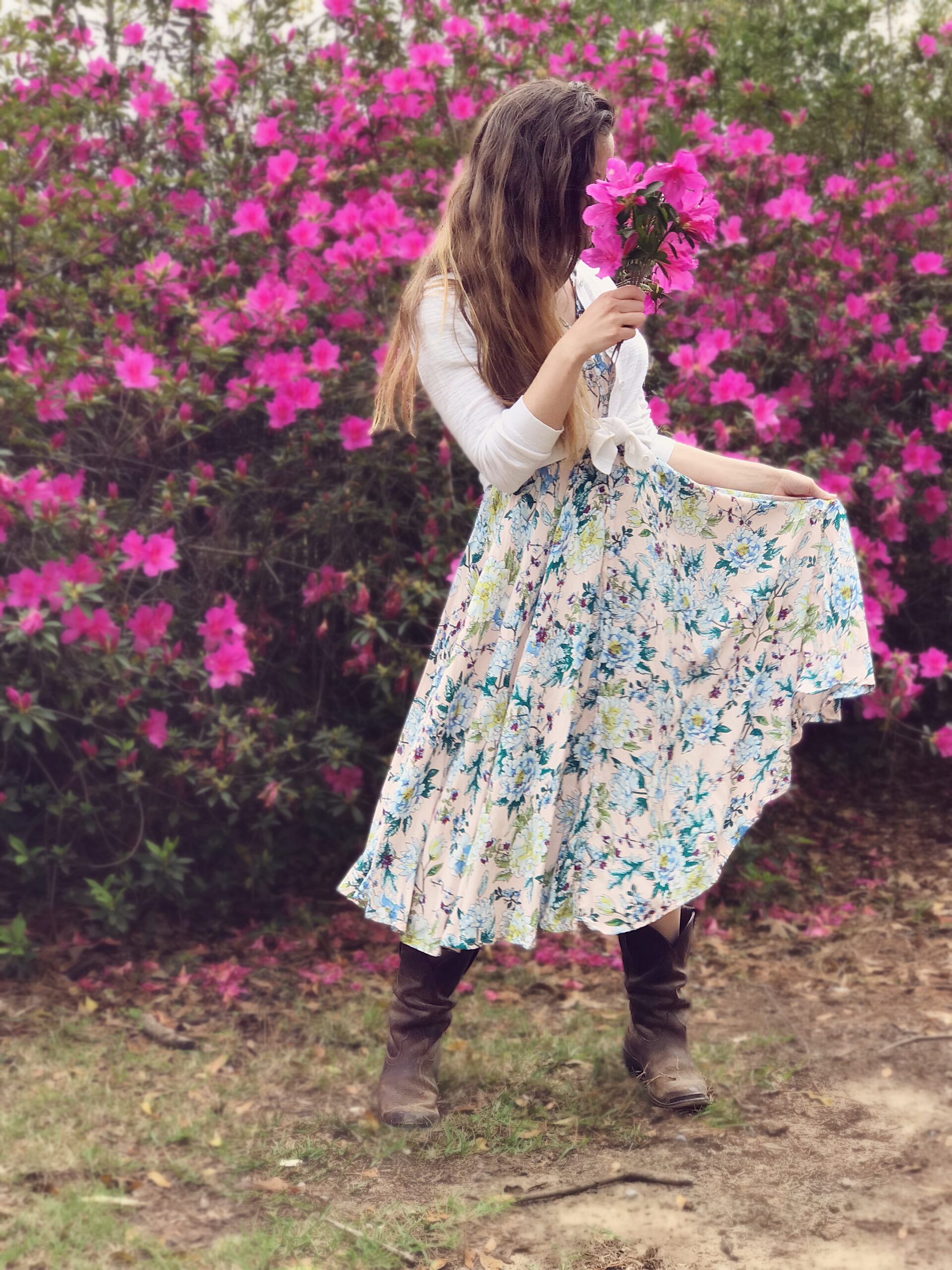 If you are trying to dress feminine, try shopping floral prints and seeing which ones you are drawn to. You may be surprised how wearing it will make you feel a little lighter, a little more romantic, a little more genteel or glamorous. I pair my floral dresses with my cowgirl boots and wind blown hair.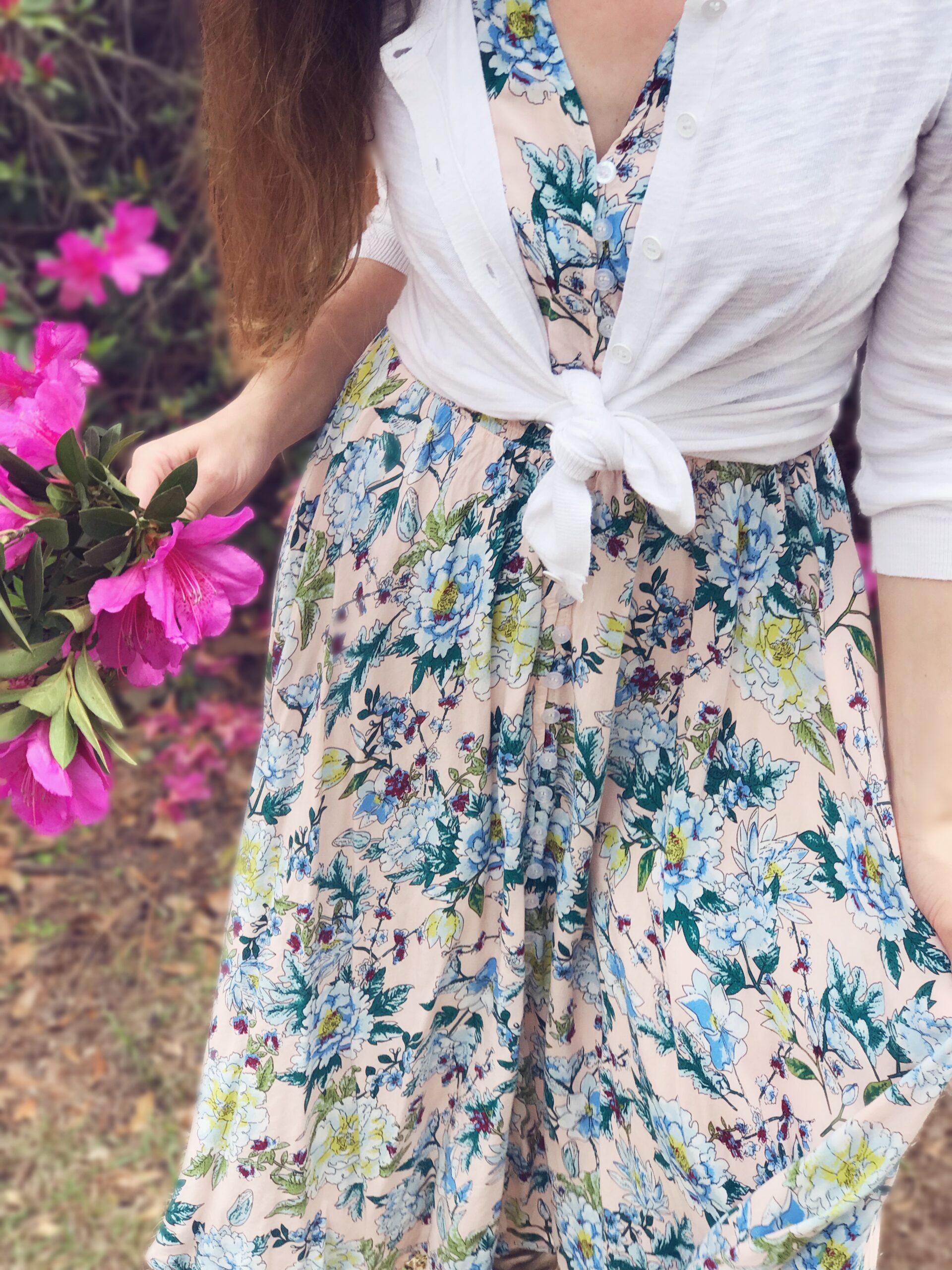 Dressing in florals will feel a bit more dressy compared to the extreme casualness that has been in fashion. But it feels just a little happier and just as comfortable as anything else. Beautiful items are also comfortable items especially with modern day soft fabrics and comfortable shoes. Farmhouse florals are all about elegance paired with the natural rustic elements of the outdoors, wood floors, bare feet or boots.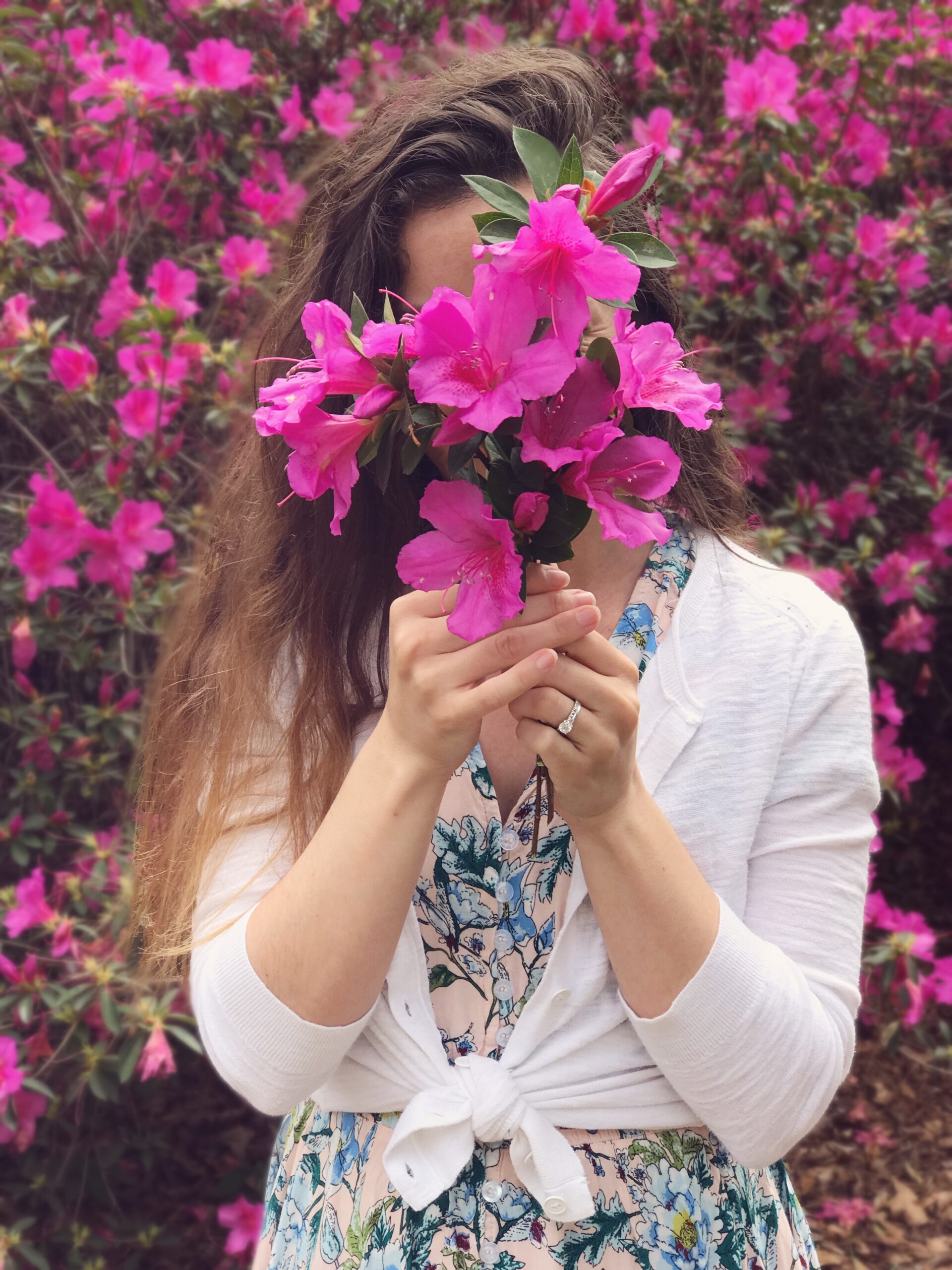 Check back for more country living and feminine style advice from this country woman just making life beautiful for my household.