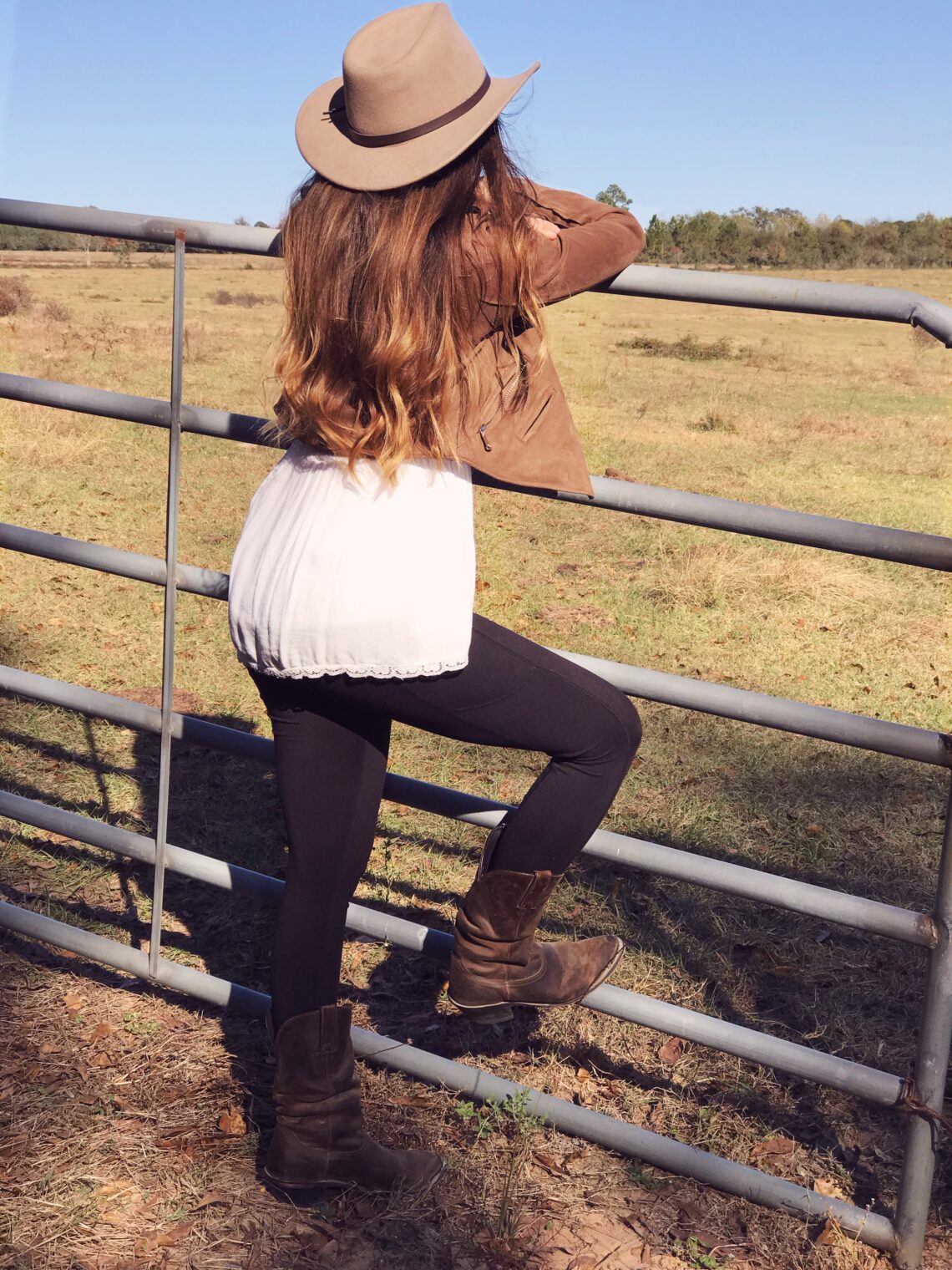 5 Boots for the Country Woman's Wardrobe
Welcome to whateverlovely.com my Country Living home & fashion blog. My name is Barbie and you can think of me as your country living stylist. Are you new to living in the country or just need some help making it better and more beautiful? Let's talk boots today because you will need them!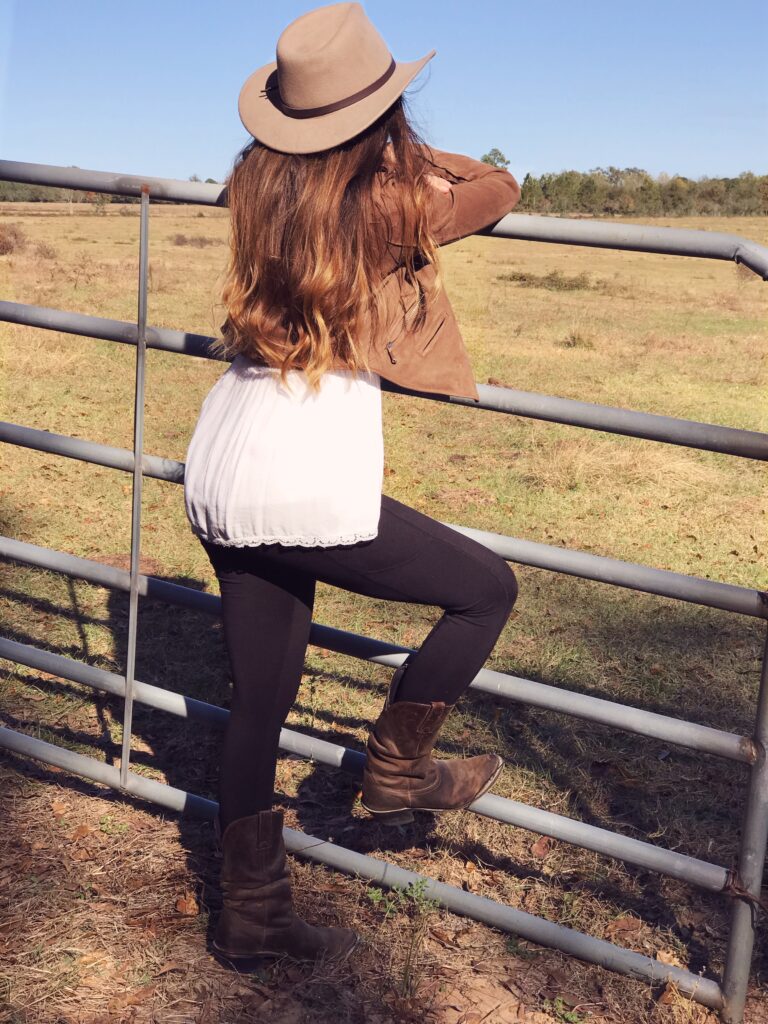 Nice Casual Leather Boots
A leather boot that can go from dresses and skirts to jeans and leggings. A stylish boot that speaks to your feminine senses but practical needs as you can do housework and outdoors work and look put together. Hardy leather that will protect your feet and ankles. These are your nice every day and be comfortable boots that you will probably wear more than anything. This type of boot can be Western cowgirl, or English riding boot, or some style in between. But this boot type is absolutely essential. I like having two pairs of every day leather boots, one more of a Western style and one more of an English style. Each style looks better with certain outfits or different occasions. I do like to make sure that whatever boot I choose serves as a riding boot.
Western style leather boots
Durango Women's 11″ Slouch Western Boot
4.5 stars on Amazon
100% Leather
Soft mesh lining
Cushion Flex insole
Tempered steel shank
With an almond shaped toe, soft brown leather and modest 1.75″ heel this boot is beautiful Western style for daily nice casual wear.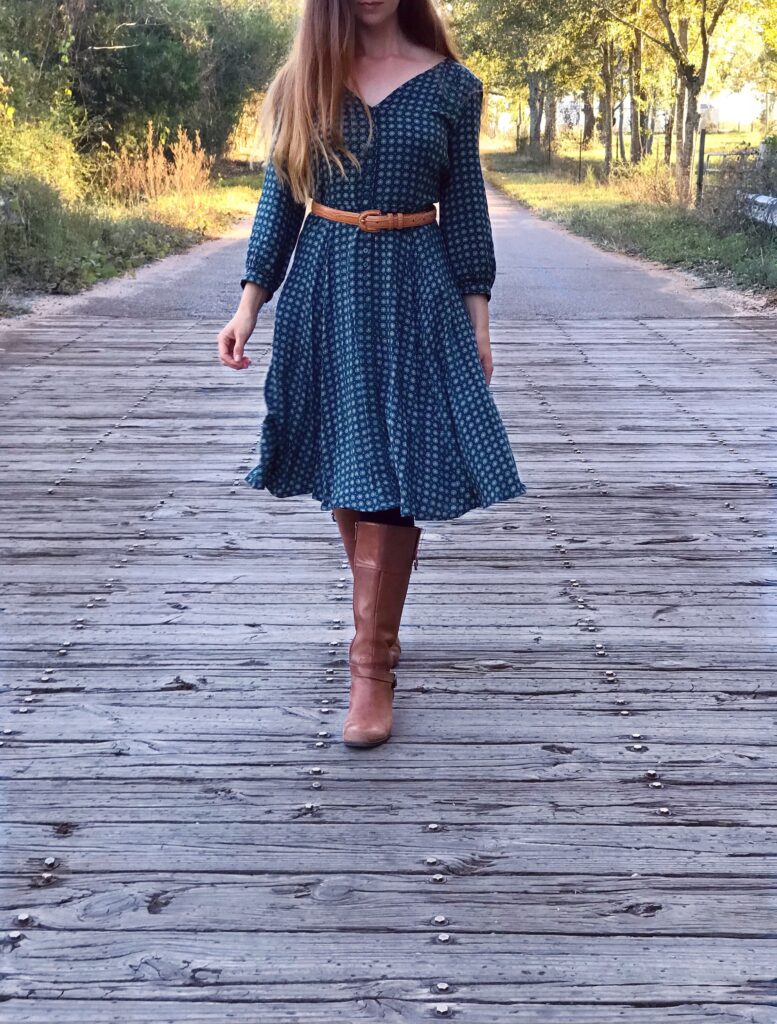 English Riding Style leather boots
Allonsi Women's Leather Riding Boot (Not the ones shown in the above photo but similar style)
4 stars on Amazon
100% Leather
CRAFTED IN PREMIUM LEATHER: gorgeous classic style riding boot
TPR SOLE AND LOW-HEELS PROVIDES COMFORT: These boots are constructed with a stacked block low-heel and TPR sole for stability.
QUALITY AND COMFORT IS OUR TOP PRIORITY: Allonsi believes shoes should be made to last, made for movement
A tall leather boot, or an English riding style boot, looks beautiful with dresses or pants. It just has a different feel than a Western style and I love both and no one should ever feel limited to choose a side. I love a classic tall leather boot sometimes because it is more delicate and slim.
Rain Boots
A classic rain boot with good traction is vital for outdoor work. Perfect for puttering in the garden to mucking out a stall. While not breathable, a solid waterproof rubber boot can take water and muck and keep you dry. Traction is very important in wet muddy conditions so be sure to buy a rain boot with excellent soles. They are not insulating in themselves but you can wear insulating socks for cold weather or lighter weight socks for hot weather. The boot is just meant to keep you dry and keep you from slipping.
Kamik Women's Waterproof "Jennifer" Rain Boot
4 stars on Amazon
100% Rubber
Lightweight
Good traction
Waterproof mid-calf rain boot
Rain boots are a simple staple in a country wardrobe to keep you dry and comfortable while working or walking outdoors.
Winter Proof Work Boots
A basic work boot can work in the winter if you wear insulating socks. If you need extra insulation from frigid temperatures you may need a work boot specifically for winter. Work boots always need to be water and mud proof with good traction. Winter work boots will have added insulation for warmth. I prefer winter work boots that have a simple sleek exterior, are tall and have an elegant profile. I also want this boot to double as a riding boot.
Ariat Waterproof Insulated Tall Riding Boots – Women's Winter Outdoor Riding Boots
4 stars on Amazon
100% Leather
Rubber sole
Moisture-wicking footbed provides cool, dry comfort
Duratread carbon rubber outsole: Highly resistant to barnyard acids, oils, and slips, it is built to withstand an extreme range of conditions and temperatures
With a slim profile for a boot boasting insulation, this is a beautiful weatherproof work boot. Do not be intimidated by boots that say they are for riding. Even if you do not have horses, these boots are often less bulky which can look better than a lot of boots, and they tend to be a bit more flexible for riding and flexible boots can mean comfort for any activity.
Nice Casual Snow Boots
Like the nice casual leather boots for every day, it is nice to have a nice snow boot. This boot is for daily wear and outdoor work but not the most disgusting work. Less bulky than a typical snow boot, a nice snow boot will be practical and also look polished. It is not your boot to stand up to your calves in muck but you can wear them to feed your chickens. A slim profile snow boot to wear with dresses, skirts, jeans or leggings.
Totes Women's Cold Weather Boot "Nicole"
4 stars on Amazon
ALL-WEATHER INSULATED… Totes Nicole Womens Cold Weather Boots have faux fur insulation and sealed seams to keep moisture out and your feet warm and dry.
NO-SLIP GRIP…a round toe and low heel, Totes rubber boots' sole and unique tread pattern give dependable traction on slick, snowy surfaces.
ON & OFF WITH EASE… front zipper closure
COMFY & DURABLE…waterproof for the coldest weather
Elegant simple exterior with slim round toe and excellent traction makes for the best dressy casual snow boots for everyday.
Check back for more help on moving to or living in the country!