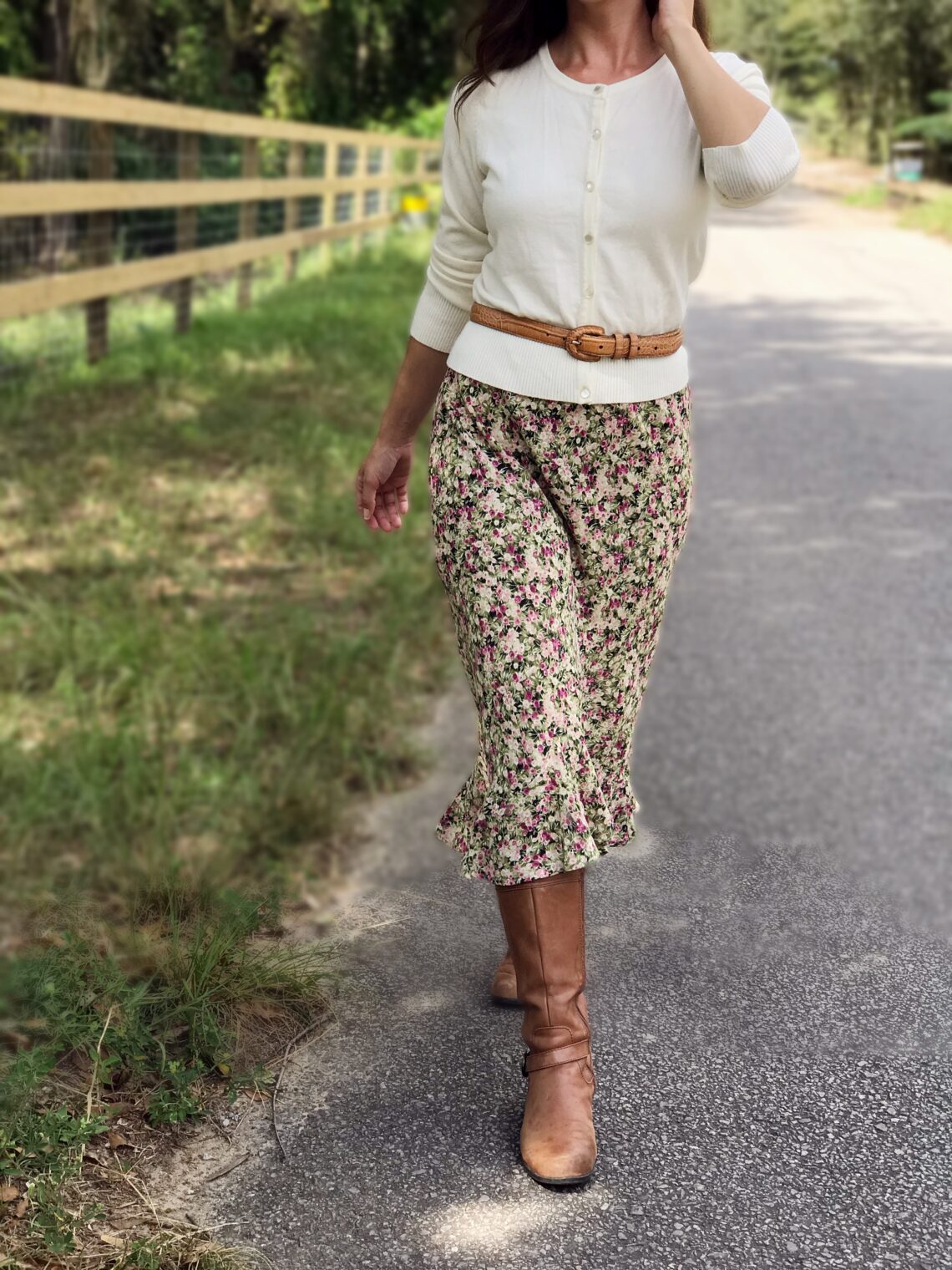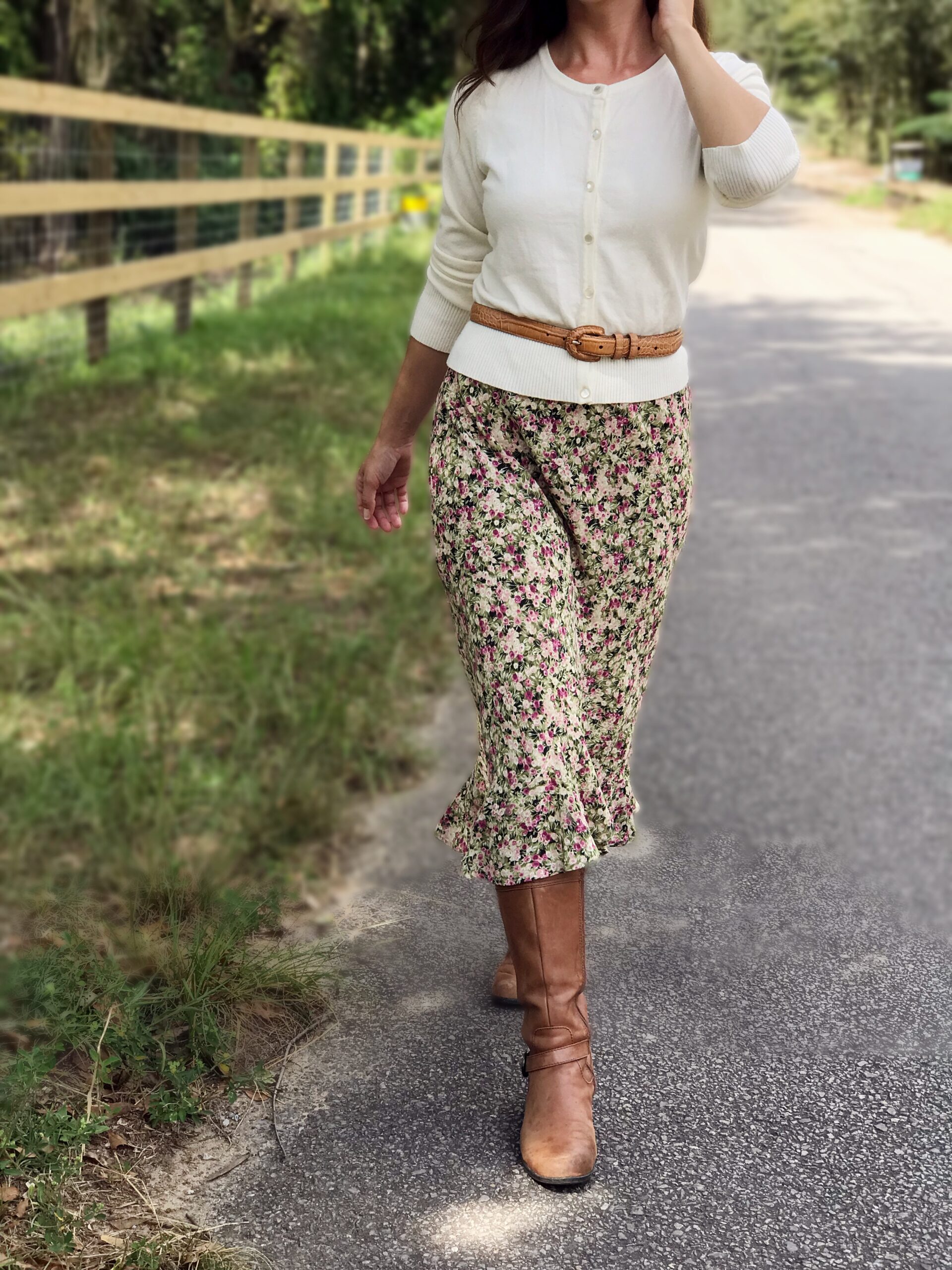 Italian Countryside Inspired Fashion : Floral Skirt Outfit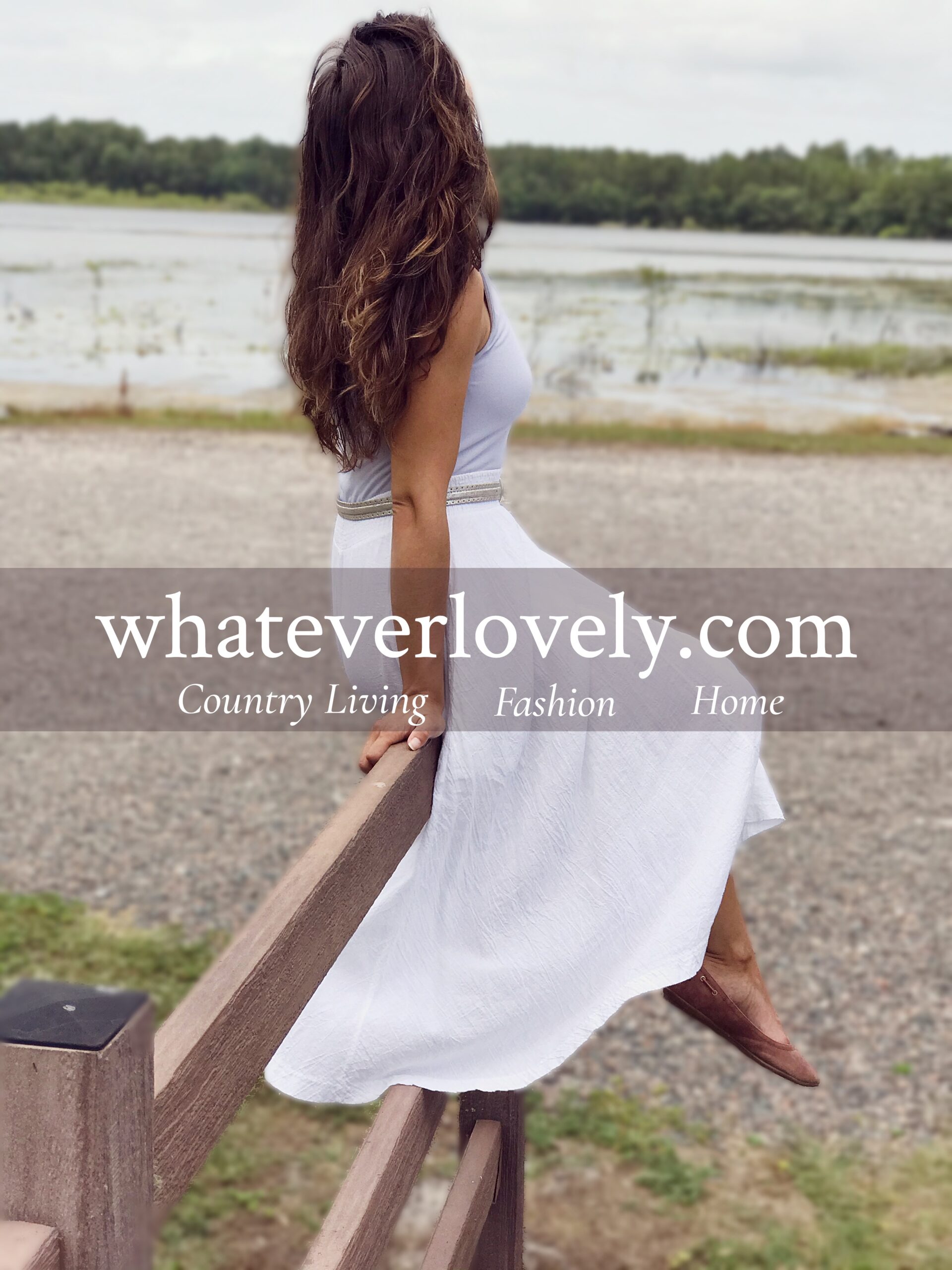 What I love about cultivating a life at home in the countryside is the room for inspiration. I am not boxed in by buildings or other houses and culture that dictate to me what defines the beauty and ambiance around me. My atmosphere is set by the sweeping oak trees, the soft bending blades of grass, the butterflies that are fluttering over the pasture. This is the setting of beauty. All I do is let myself dream and the inspiration comes through my preening of the world around me.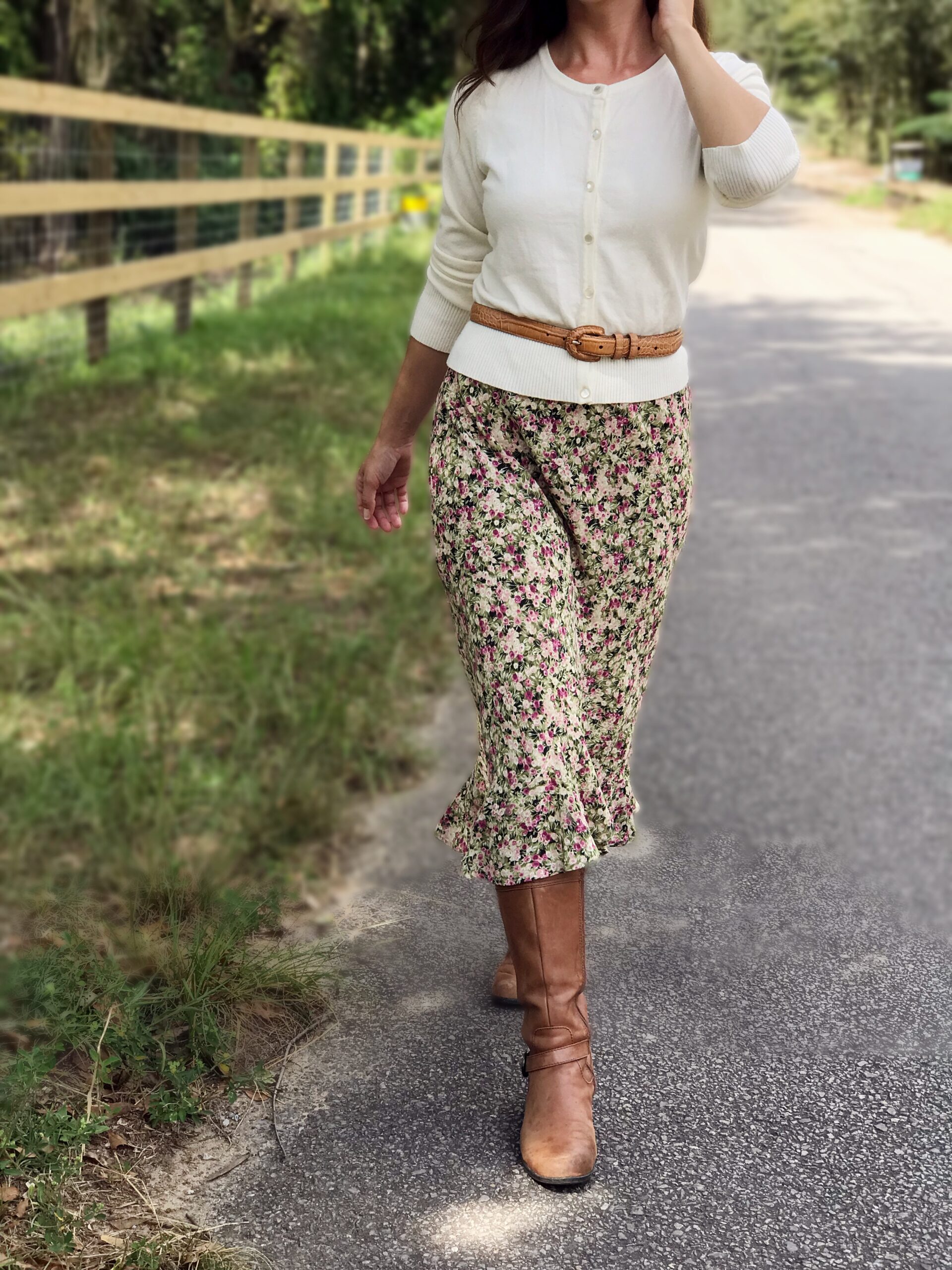 I find a common thread….pun intended, to the styles I am drawn to and the undeterred femininity of the fashions of Italian women. Going for a walk? Put on a floral dress. Gardening? Wear a beautiful dress. Doing anything? Shapely floral beautiful dress. Every moment is a moment for beauty and beauty unhindered. No excuses, no task too lowly for it to not be uplifted by a wonderful sense of sheer joy in being a woman, in being outdoors in the sunshine, walking as a blossom among the flowers.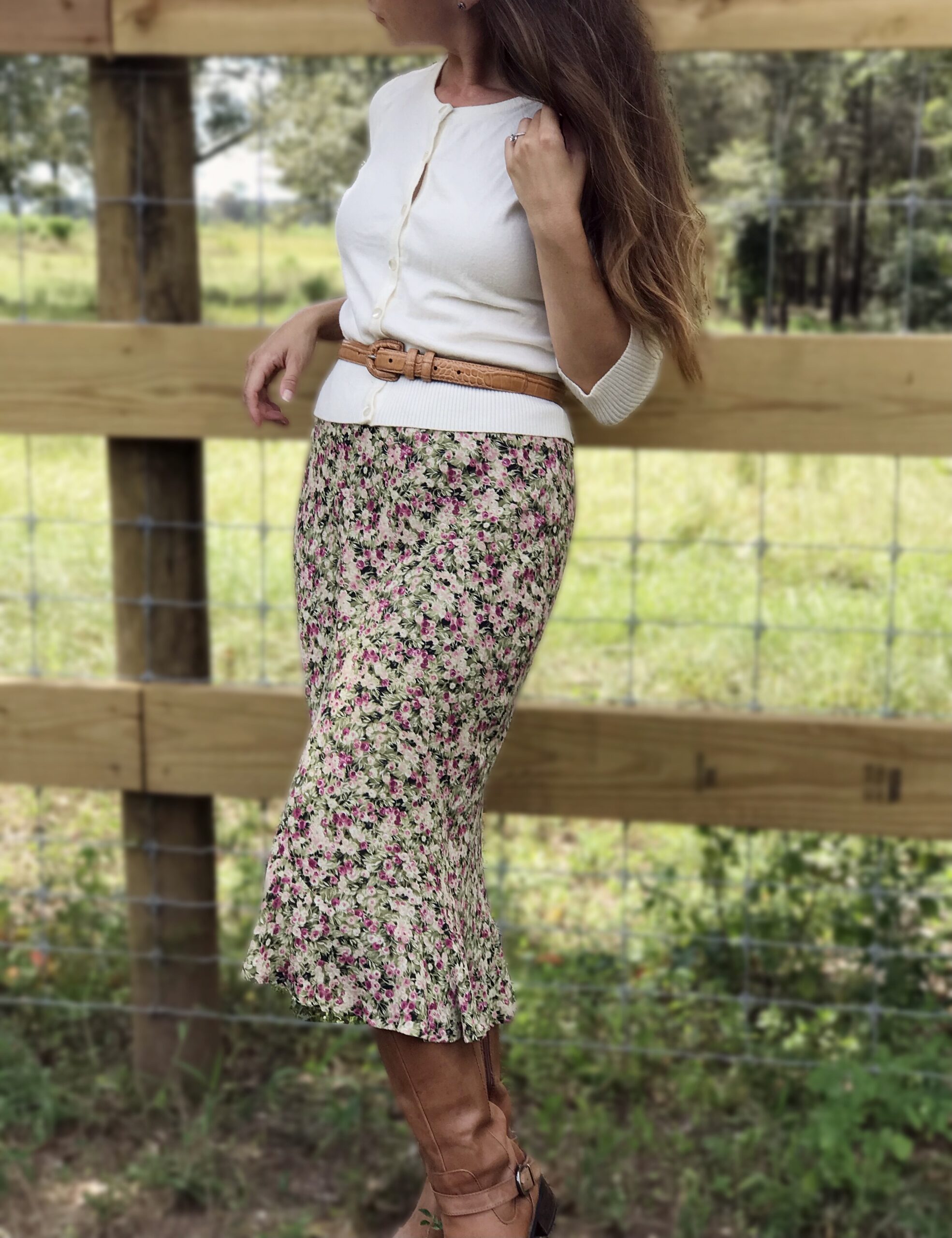 And what are these clothing items that let you do daily life while ready for a magazine shoot? Like the Italian model I have made up who is walking down a beautiful Italian countryside road…..Well when I thought of her, I knew she would choose something floral. But it has to be a little bold. Nothing too delicate. Like this busy floral pattern.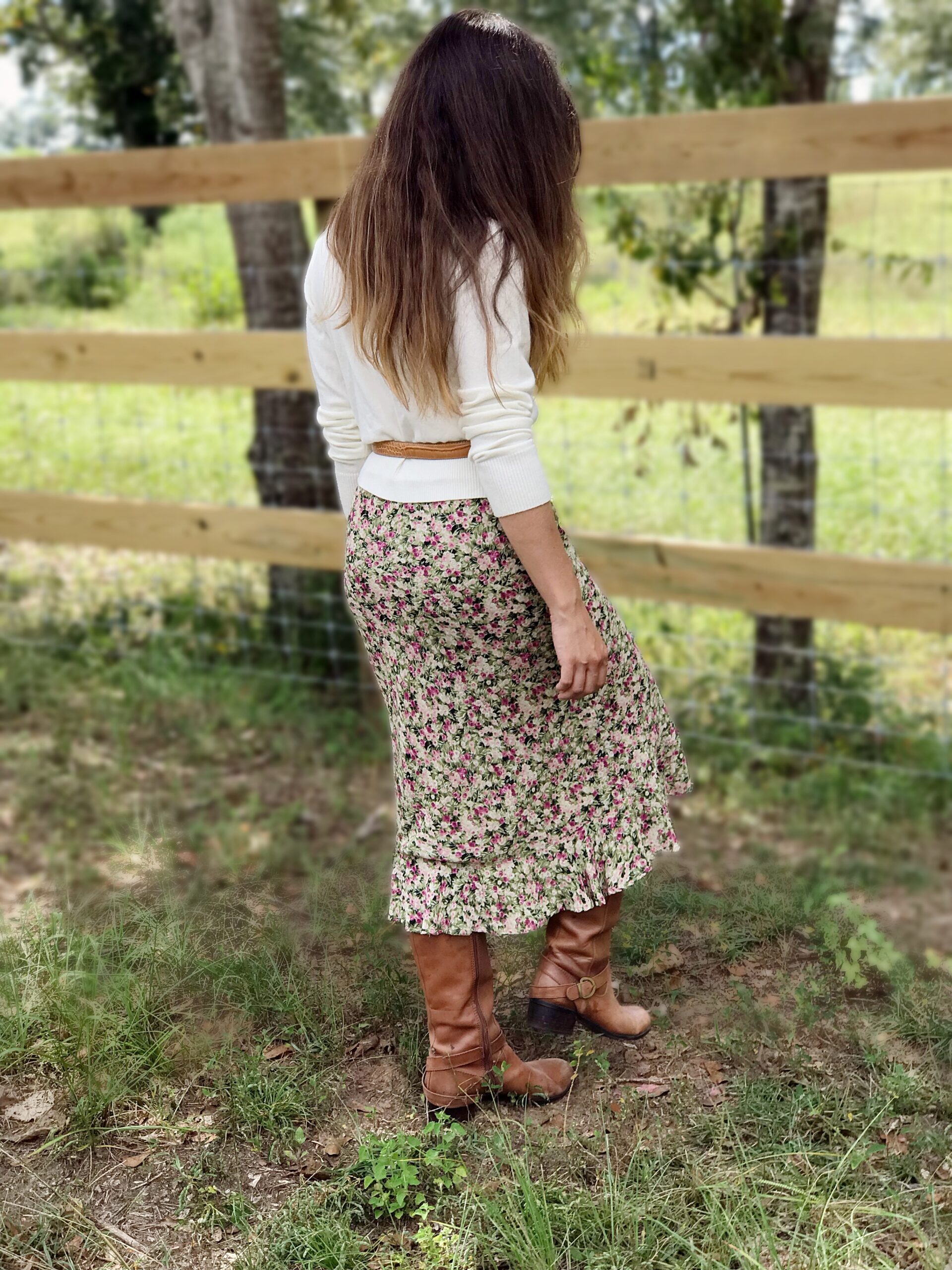 She would definitely even it out with a neutral cream top, like this cardigan perfect for Autumn time.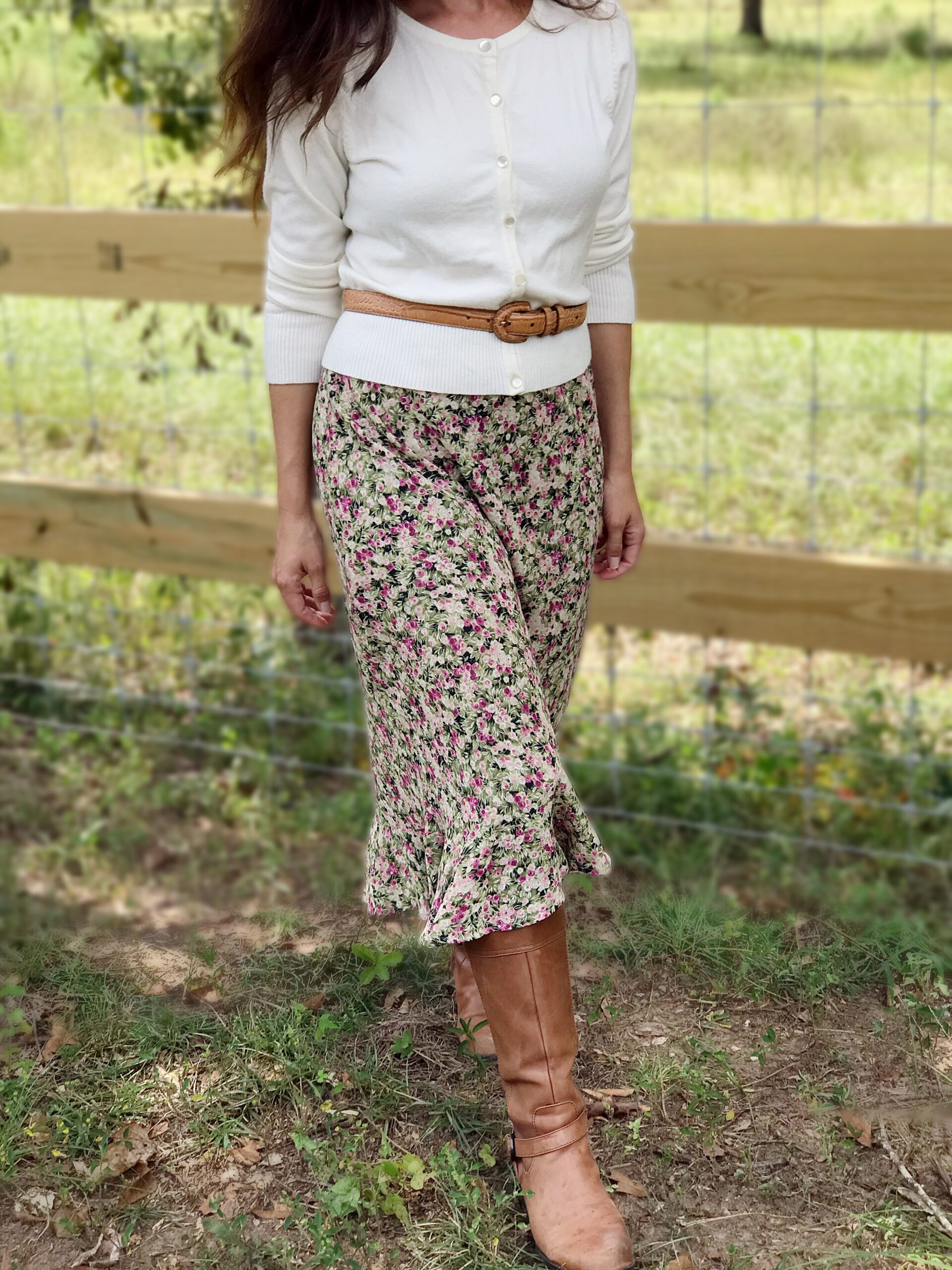 But lest it look a tad sloppy she would define her waistline with a gorgeous leather belt.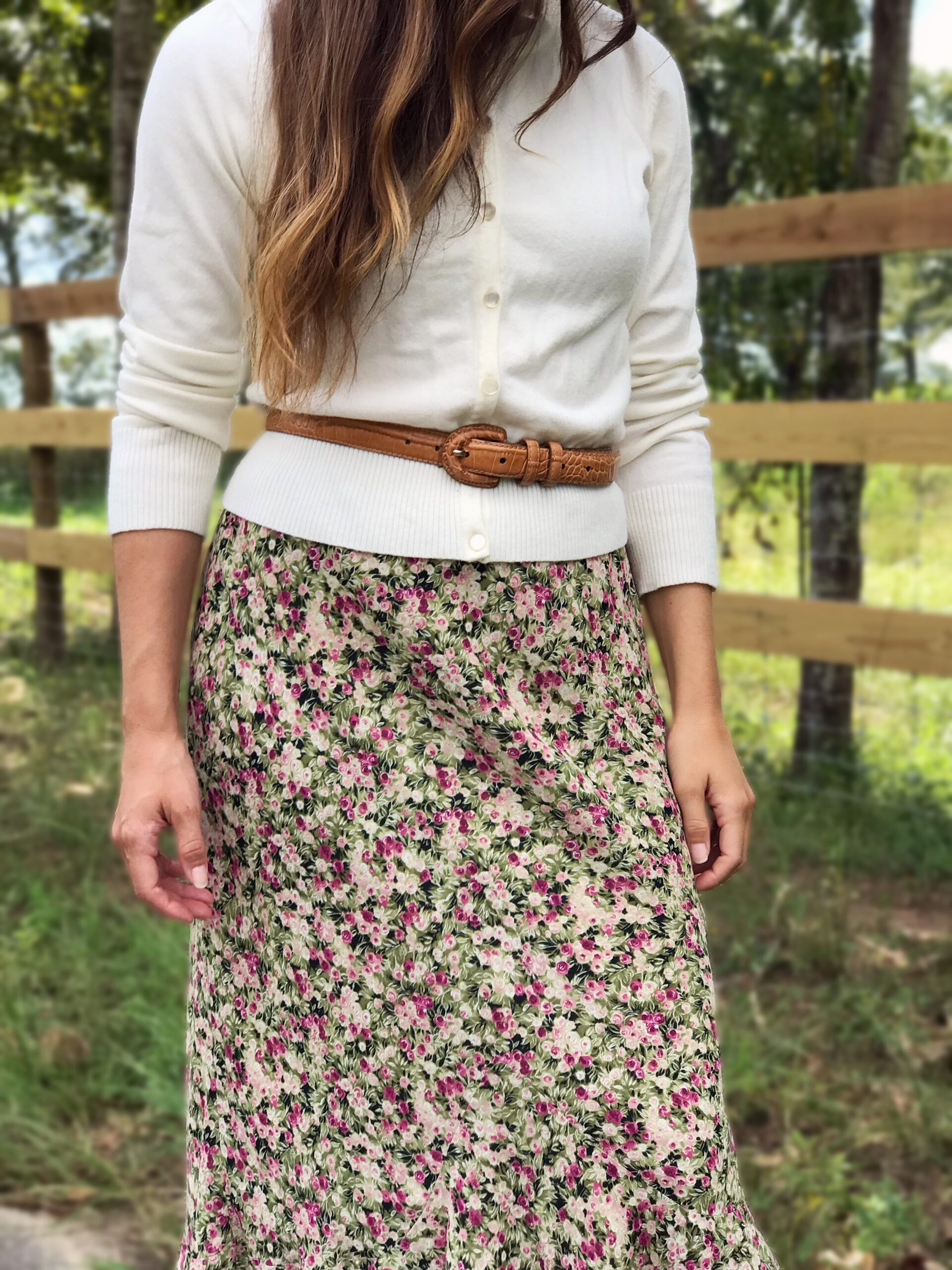 The shape of this midi skirt gives it even more of that Italian feminine allure as it ruffles at the bottom.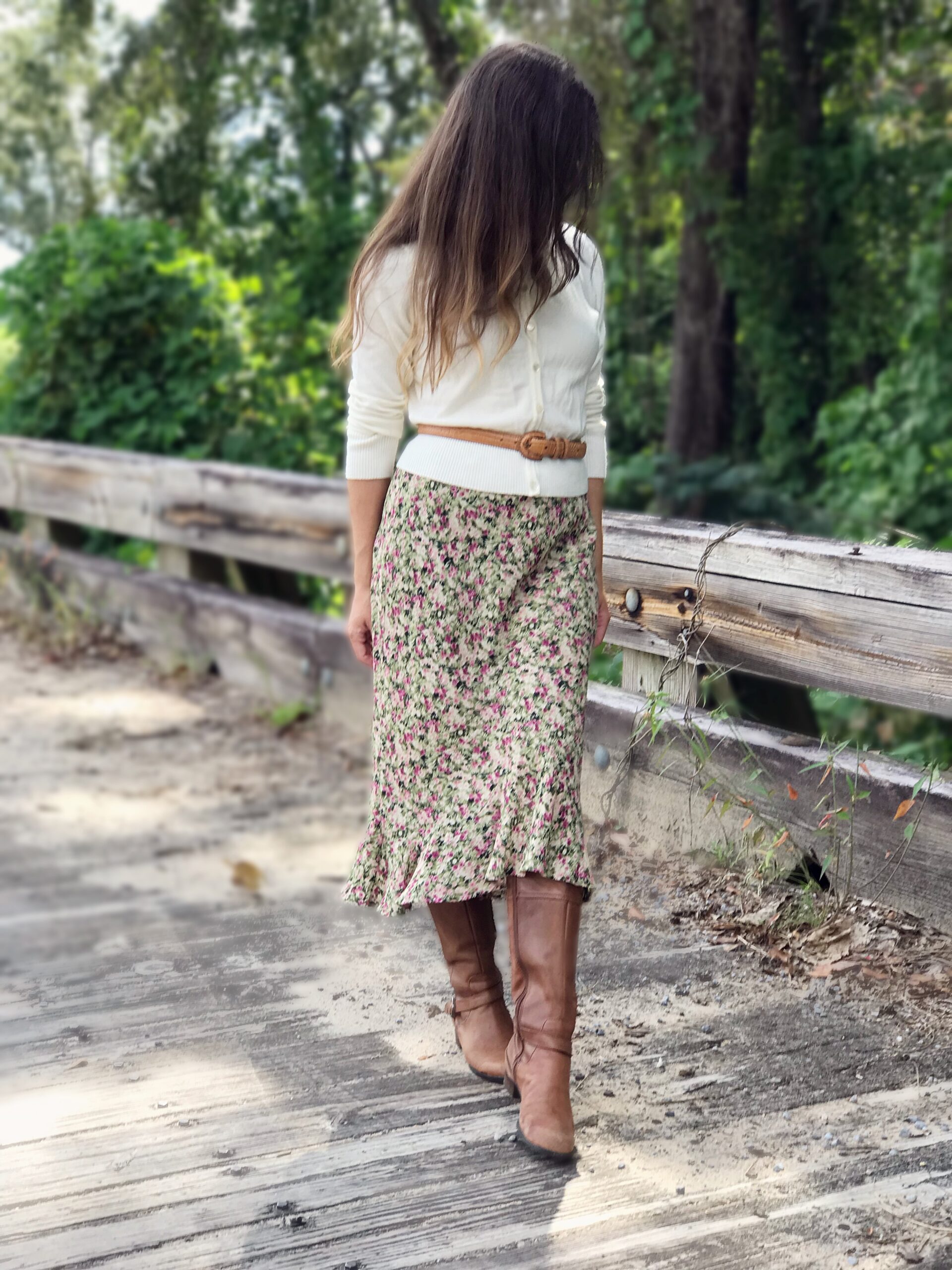 Now this Italian country woman is me, and these are just the things I wear and the things I like. But since they struck me as "Italian countryside" I described them as such. Perhaps this strikes someone else differently but this was my feeling about it and it was fun to make up the scene as though I was in Italy and what I would wear.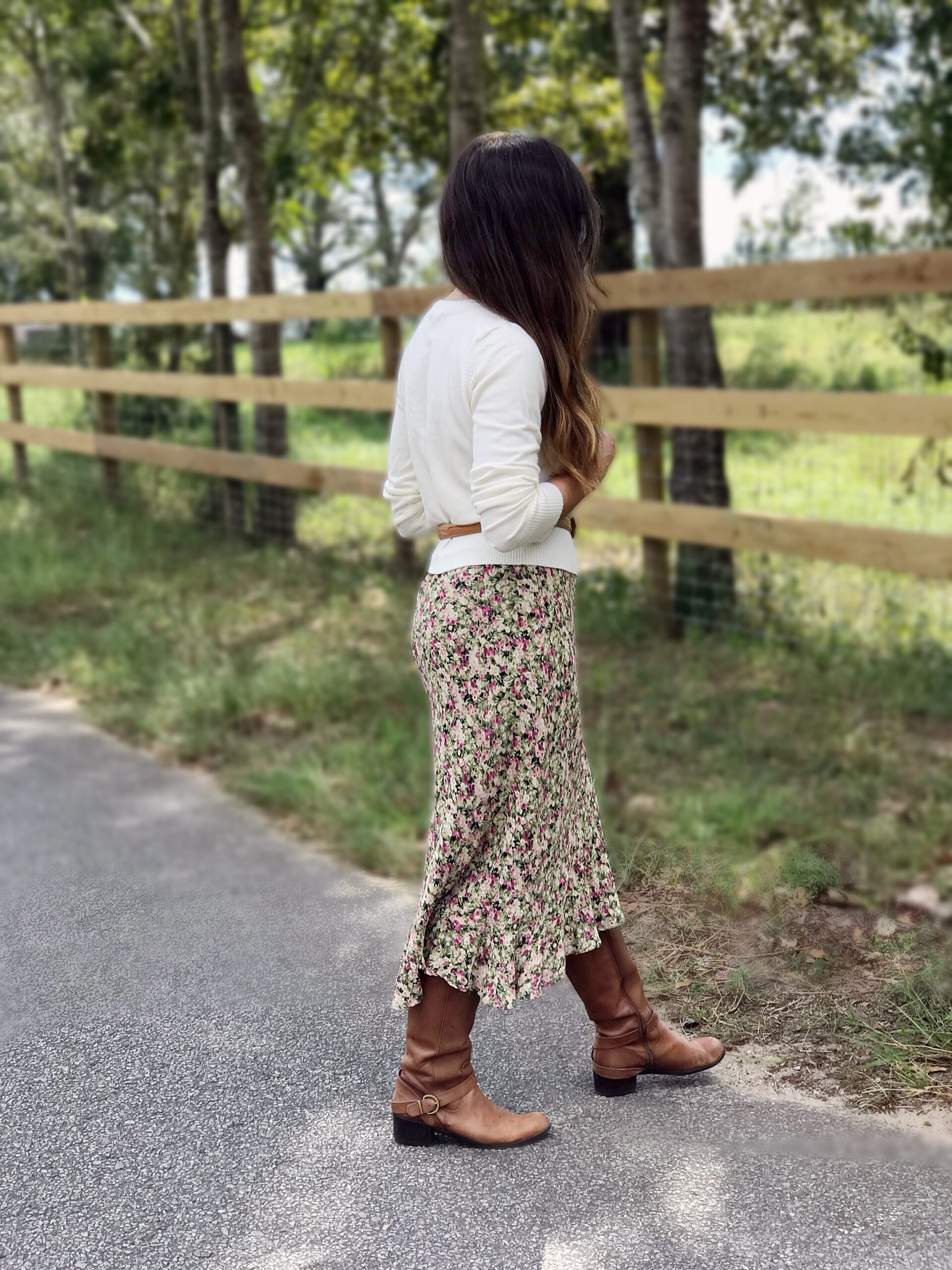 But actually this is just one of my favorite outfits and one of my favorite skirts that I thrifted. It is one of those items that I reach for more than I even thought I would. It has a slinky drape and a stretchy factor that allows ease of movement but it does not cling! It is a sheath style that is kind of straight so it doesn't flare out, yet that bottom ruffle subtly swishes with my movements and the whole silhouette is just classy and demure without highlighting my rather prominent derrière too much.
Enjoy your day at home and make it more beautiful by the time you close your eyes for bed than it was when you woke up. And that can just mean that your day was spent being kind!
For more country living, homemaking and style follow whateverlovely.com