Classy Feminine Style for the Homemaker : Cold Fall Winter Weather Fashion Formula
Ladies, does cold weather make you feel less feminine and stylish and more hulky and pajama-y? I grew up in cold weather and so take it from me, it can be done in a beautiful way and still keep you warm. For anyone just clicking in, note that I am a country woman. So dressing for the day is not just meant for city girls or those being seen. I believe great style is meant for our homes and our families, and our God gifted days!
The countryside is so beautiful it is no place to look your worst. Of course here I am wearing my booties for in the house and when I venture outdoors for work I wear my work boots! Yes with this outfit!
Anyhow, this fashion formula shows that items normally villainized are actually classy feminine items when paired to use the strength of that item not it's weakness.
Short skirts are too short for me to wear with any level of comfort. Bending and sitting in a short skirt is just indecent frankly. Likewise, leggings may fall into the "yuck" category for some ladies because of the brash way they are often worn. But short skirts and leggings actually have a place in a classy wardrobe.
Leggings make a short skirt modest and short skirts make leggings modest!
In cold weather specifically, these items work together to keep you warm and styled!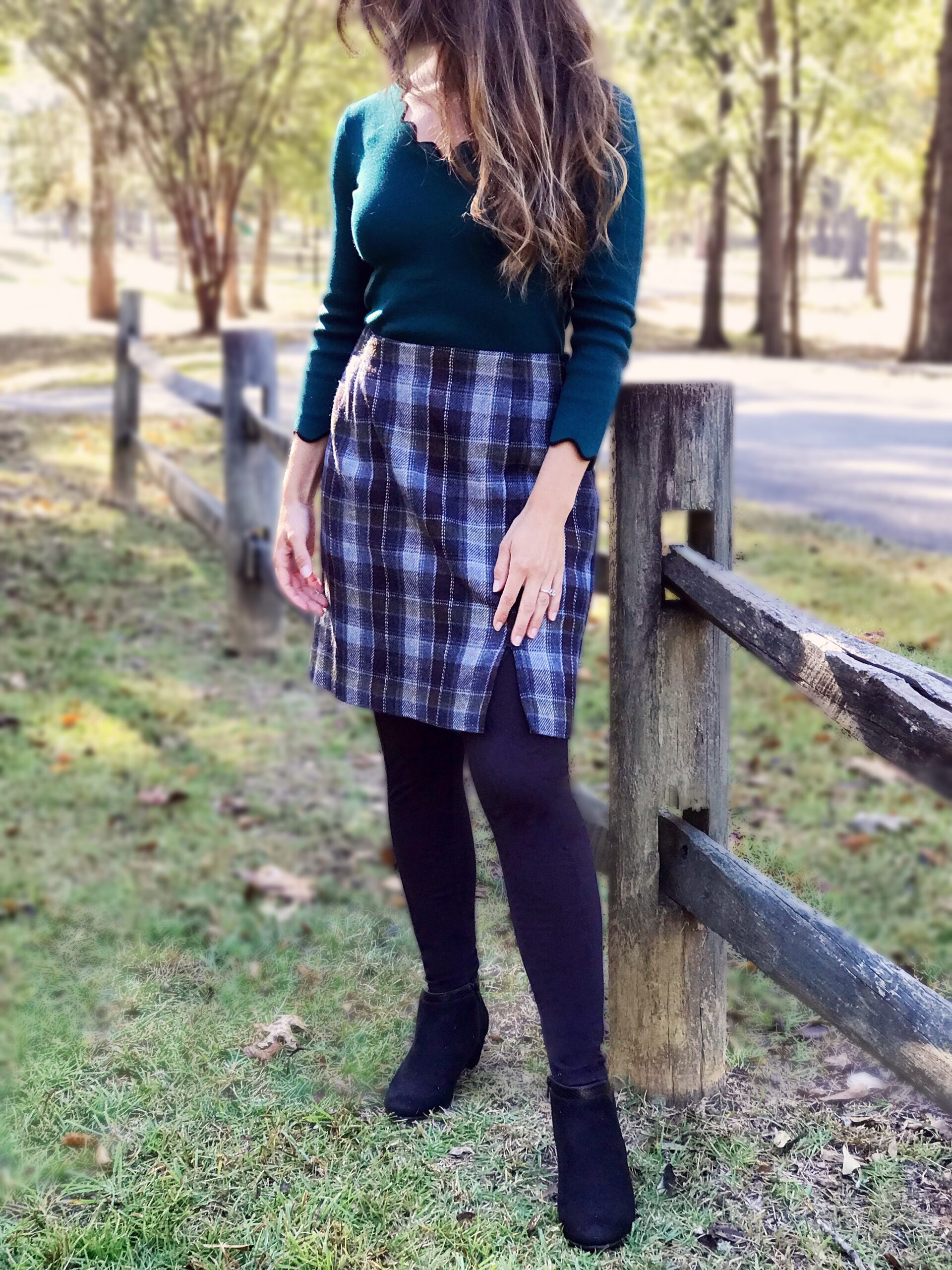 When I am cold, all I want to wear is a pair of fleece lined leggings and a long sleeve shirt….this is exactly that with a short skirt over it! It feels the same but looks polished!
Emphasis on the "fleece lined leggings". For cold weather, not just any leggings will work. Fleece lined leggings make a difference in keeping you warm.
In this outfit, I can do house work and many outdoor tasks as well and be warm! I am ready to run errands or be dressed well if someone comes to the door or if there is an emergency. It is never a waste to get dressed in the morning even when you're just at home. You will feel so much more productive and dignified being well dressed. But your own household would love to see you at your best every day. Why save it only for the outside world or other people?
The Lord blessed me to find this plaid wool skirt at the thrift shop! It is a vintage item in excellent condition. For cold weather, wool skirts are superior for warmth as they are water resistant, great insulation and a wind barrier. Yes, the material actually matters. You can wear any short skirt over leggings as this fashion formula but wool skirts specifically insulate better than other materials such as cotton, acrylic, or polyester for instance. This is a cold weather fashion formula so these details are a part of that. Skirts give a ladylike polish but they are also another barrier against cold!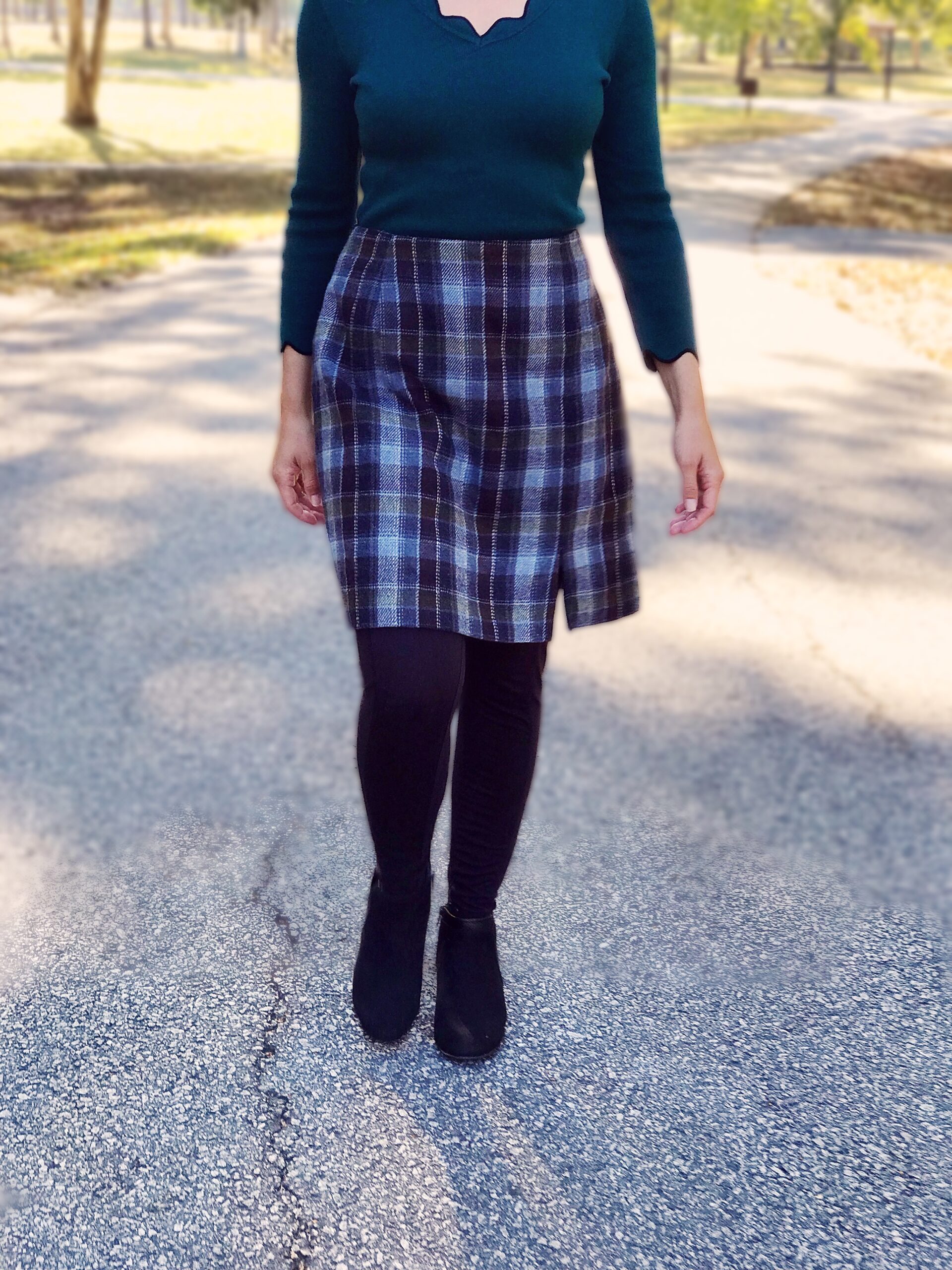 I also thrifted this tan wool skirt but it is not vintage, the brand is J Crew. This is one of my favorite brands for classic quality clothing. So if you can't find a wool skirt thrifting, look at what J Crew has new or what someone is selling online used. Point is, wool skirts are amazing toppers over fleece lined leggings in cold weather.
I have a collection of cold weather tops that are fitted, long sleeve, thin sweaters. This is a sweater top in a deep teal green with scalloped neckline and sleeves. When a sweater is thin it can be tucked in like this with a skirt without making you look bulkier in the waist.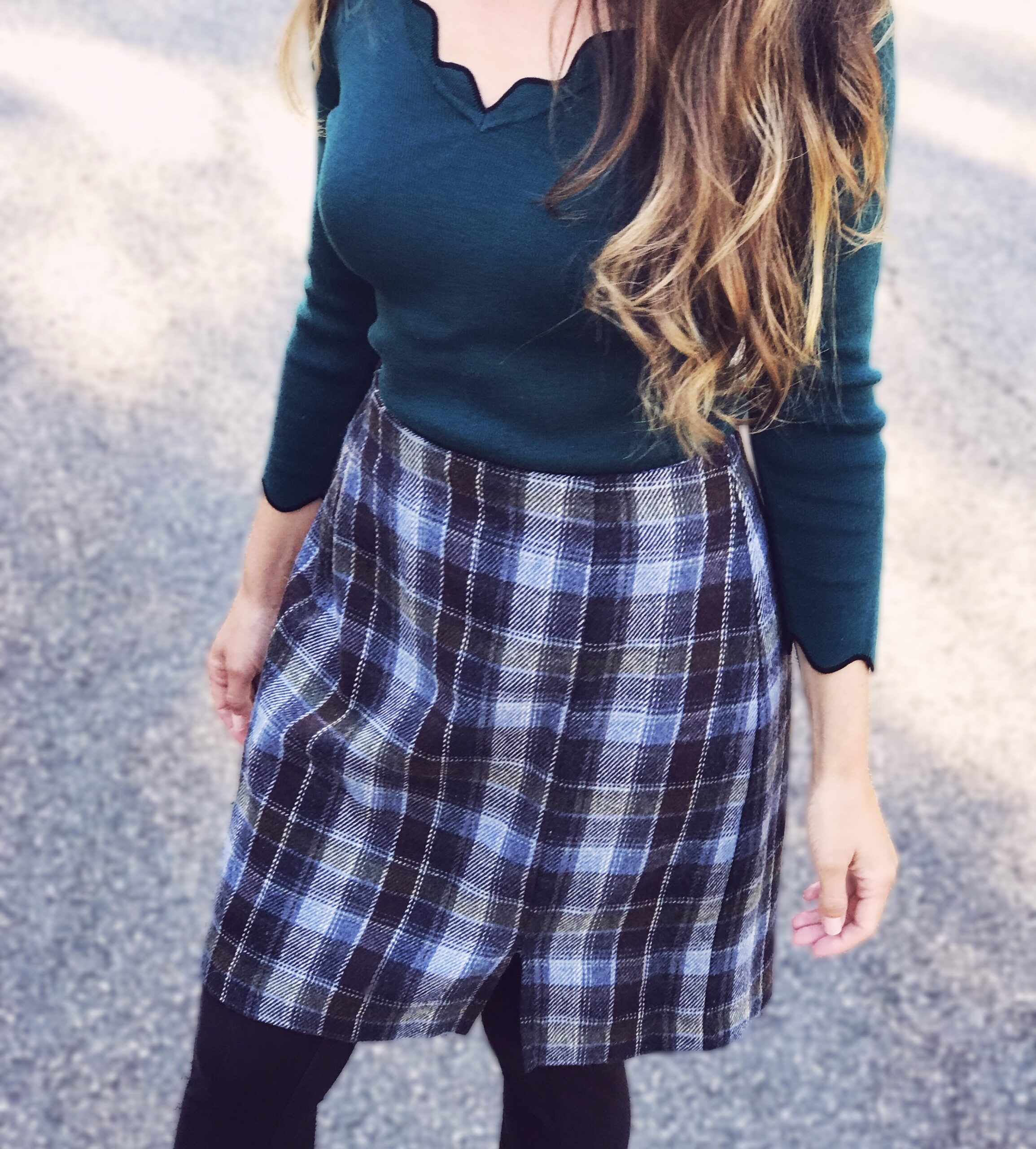 I also have a collection of long sleeve tops that are not sweaters but just long sleeve tops that can also be tucked into skirts. This is a cranberry colored long sleeve cotton spandex top.
Many women find cold weather especially challenging to maintain good style but this is a basic cold weather fashion formula that is comfortable, classy and feminine!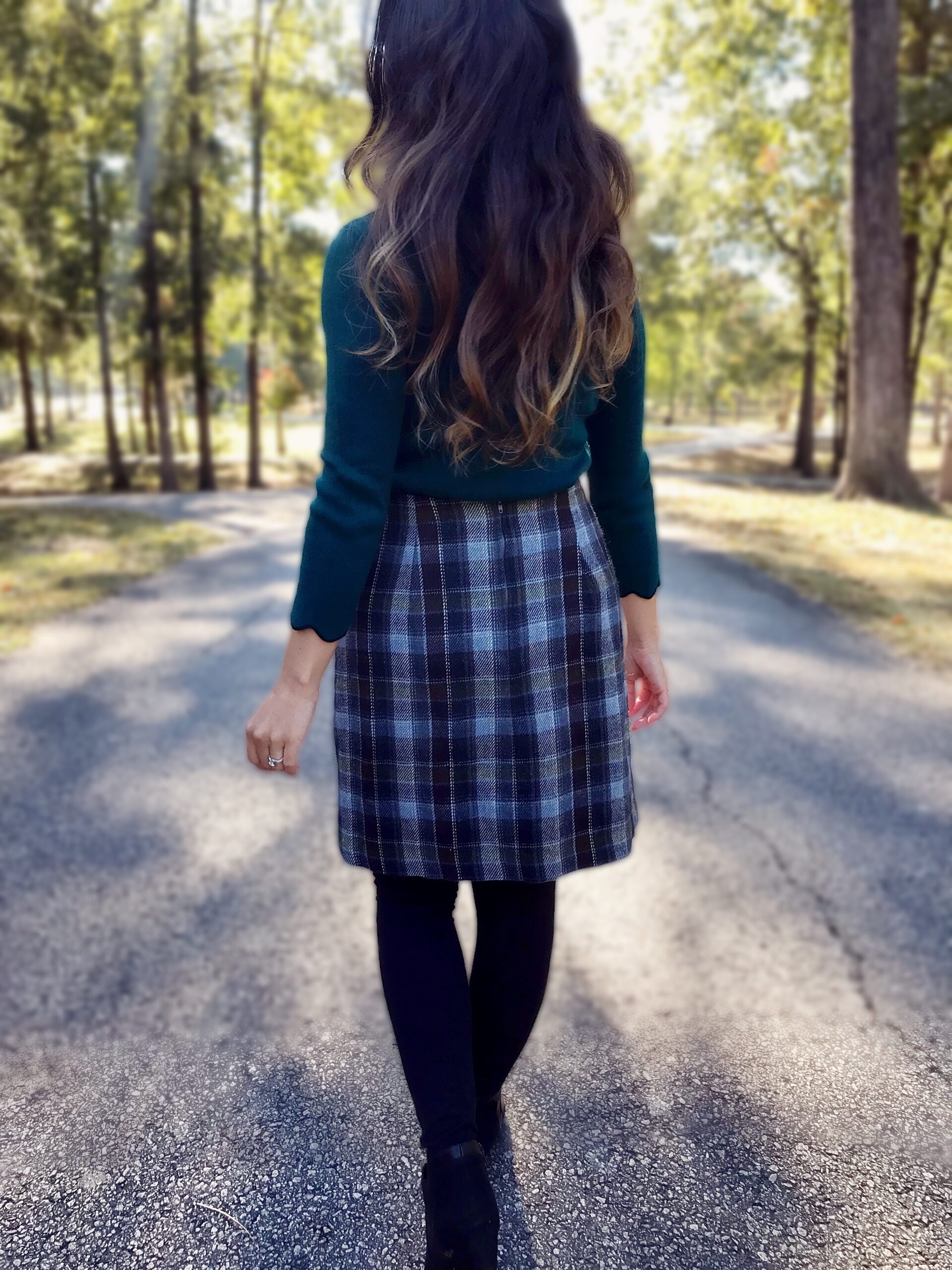 Your presence of dignity and femininity in your home is a blessing to your family! Every day is a gift from God and an opportunity to bring joy and beauty to the little world that you get to influence for good. Your home is an atmosphere and a culture that you make….if you are a homemaker!
Make it lovely, Barbie
For more encouragement and lessons on country living, fashion and home, follow whateverlovely.com